News
Voting open for school film competition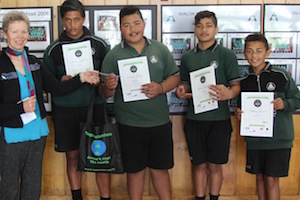 October is Vegetarian Awareness Month, encouraging a way of living that reduces animal suffering, improves people's health and protects the environment.
This year, the NZ Vegetarian Society School Short Film Competition marking the month-long event is open to primary and intermediate schools as well as secondary schools.
School students from all around the country have entered films highlighting animal advocacy, nutrition and health, protecting the environment and vegetarian living.
The NZ Vegetarian Society has been presenting the awards and prizes to the category winners at schools throughout the country.
"Young people must eventually decide for themselves what's important, and the youth of today are becoming more reflective in their choices," NZVS national manager Stephanie Lane says.
"We want to give these leaders of the future the chance to really investigate and think about their actions, which is what this competition does."
Voting is now open to decide the overall winner, which will gain one school the $1000 cash prize.
View films and vote at www.vegetarian.org.nz. Westlake Girls High School on the North Shore won the Secondary School Nutrition and Health category, while in the South Island, Lincoln High in Christchurch took out the Animal Advocacy category.
Avalon Intermediate in Lower Hutt rapped their way to a win, and Waikowhai Intermediate in Auckland claimed the prize for Intermediate Animal Advocacy.
The winner for the Primary category couldn't be decided so Omokoroa School in Tauranga and Sumner School in Christchurch shared the Primary first place.
"We're proud of our entrants and pleased to have helped them explore these complex and morally charged issues," NZVS President Julia Clements says.
After the voting concludes on October 30, the overall winner will be declared on World Vegan Day, November 1.
The film competition is a fun chance for students to learn about healthy and ethical food choices and investigate the realities and impacts behind their diets.
It also allows students to take ownership of their food choices and explore their creativity, and has resulted in several promising young people winning cash and/or prizes for themselves and the chance to earn $1000 cash for their school if they win the People's Choice.
Prizes were sponsored by Quorn, Linda McCartney NZ, South Seas Film & Television School, NewWay, Hardys Northland, Ethicalshopper.co.nz, The Animal Connection, Pest Free, Hell Pizza, Proper Crisps and E.L.E.