Education
Vision and values the crucial factors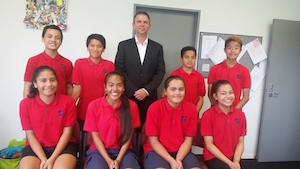 It's Saturday, February 28, 2015. The crowd erupts as New Zealand take yet another Australian wicket. They are crumbling right before my eyes. Who would ever have thought Australia would be 6/97!
I sit back and think, can this day get any better? I check my phone and see I have a missed call. Earlier that day I had been sitting in an interview for a principal's position. I run down the stairs of Eden Park and try to find somewhere suitable to call back. I make the call and indeed the day does get better. On the other end of the phone is the board chair offering me the position as principal of Glen Taylor School.
I head back to my seat and inform the lads of the good news. In just a small few hours not only had New Zealand beaten Australia in one of the most intense games of cricket, but I had also become a school principal. Needless to say it was a good night!
The next morning it dawned on me….OMG I'm a principal!
I am now a term into the job and the learning has been endless. It has been a challenge, but a challenge that I really enjoy.
Glen Taylor School is a full primary school situated on the border of Glen Innes and Glendowie in East Auckland.
We have a roll of 250 students, who come from a wide range of ethnic backgrounds. I am very fortunate to have come into a school with a dedicated and passionate staff, who go the extra mile for our children. The school has a very good foundation to build from and now it is our challenge to make a great school even greater. How will I go about that??
Developing a school vision
This is step one and the most crucial part of developing the culture of the school. I believe it is vital to work with all stakeholders in the school community and develop a shared vision that is current, meaningful and owned by the entire school community. This is a big job and one that has to be done well. I believe that once the school's vision is owned and valued by all stakeholders everything else that the school does will be based on this vision. To this extent I firmly believe that we must consult with the staff (the whole staff not just the teachers), the BOT, the community, and most importantly with the students.
I have been lucky to work with Voodle Ltd, which is a start-up company in the toy and gift industry. CEO and founder Hagen Bower and myself have spent many hours discussing the importance of having a shared vision that is truly believed by all stakeholders.
We have used Simon Sinek's Golden Circle as the basis of our work when designing a vision, whether it is in a school setting or a business setting. Sinkek says we must start with the Why. Why do we get out of bed each morning? What is our purpose, our cause, our belief? These questions are what will form the vision for the school. Once we have the why sorted we can work out how we are going to do it. Then finally we can work out what we will do.
The other major factor in designing a school vision is to be aware of the way and speed in which the world is changing. As renowned educator Ken Robinson says, "We are in an education paradigm shift." The fact of the matter is that many of the jobs our five year-olds will have when they leave education have not yet been created. I believe that the days of teaching our students "stuff" is long gone. So, when we look at creating our school vision I believe that words like communication, collaboration, creativity, critical thinking and curiosity must be in the forefront of our minds. We are 15 years into the 21st century so we have run out of time to prepare children for it. We are already here. We now live in a global community and we need to ensure that our children leave school with the skills to survive in a world that we don't know what will look like. Scary or exciting?
Developing school values
Along with working on a shared school vision I believe that instilling the values of the school is vital. We are a PB4L school so we have a great platform to build from. Like the vision the values must be owned by the whole school community. The values must be referred to and taught in and around the school. The NZ Curriculum has values and our job here at Glen Taylor is to adjust them to suit our school community. Again, like the vision, I believe that consultation is the key to embedding the values into the school culture.
I have just returned from the National First Time Principals Conference where my thinking was reaffirmed. One of the key messages I took was that developing and implementing the vision and values of the school is essential in developing an inclusive school culture. Only when these have been implemented and are owned by all stakeholders can we start to look into pedagogy and the way we are teaching.
Developing a school curriculum
"If you're bored teaching it, you can bet they are bored learning it!"
This statement was made to me last year when a colleague returned from a writing course for boys, and it really got me thinking about how to develop a school curriculum. I believe that we must engage and motivate our students before we can expect them to achieve.
Therefore, we must ensure that our school curriculum is one into which the children themselves have input. We need to ask them what it is they are interested in learning. They will then be able to take ownership of their learning, which will lead to increased quality of work and that will naturally lead to raising student achievement.
I am a believer in experience-based learning. If we can subject our children to actual experiences they will be more engaged and motivated to learn, as they will have had first-hand experiences of what is being taught. This can be done in a variety of ways, from trips, shows, to working outside, watching Youtube clips and talking with people, to name just a few. Once they have the experiences and take ownership of their learning they will be able to make a difference.
Our students have so many skills in so many areas it is very important that we have a school curriculum that covers more than reading, writing and maths. The curriculum must include aspects of the arts, sports and culture. This is another way to ensure our students are engaged and taking responsibility for their learning.
By combining the vision, values and school curriculum I believe student achievement will take care of itself and we can get back to having fun at school, which surely is one of the main reasons we are here!
It is an exciting time and I really look forward to the challenge of working with the community in developing the vision and values for the school and then developing an Inquiry Based Curriculum where all students will be engaged and have the opportunity to reach their full potential.