News
Recognition for top digital learning teachers at inaugural award ceremony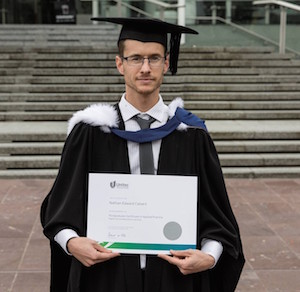 Kristin School teacher Nathan Calvert was awarded the inaugural NEXT Foundation Expert Teacher Award at The Mind Lab by Unitec's graduation in Auckland in September.
The ceremony marked the course completion of the first 130 teachers to undertake The Mind Lab by Unitec's Postgraduate Certificate in Applied Practice (Digital and Collaborative Learning), with the top three students selected as finalists.
As the NEXT Foundation Expert Teacher, Mr Calvert was awarded a $5000 cash prize. Runners-up Simon Jones from Kings College and Natalie Cattell from St Mary's College were also honoured alongside their fellow 2015 graduates.
Mr Calvert was thrilled to be named the NEXT Foundation Expert Teacher, and said winning the prize was a real career highlight for him.
"As well as recognition for my academic efforts, winning the award has also confirmed that my practice is helping to develop the essential 21st-century learning skills of the students I'm privileged enough to teach," he said.
Founder and chair of The Mind Lab by Unitec Frances Valintine said the ceremony represented a milestone for the foundation postgraduate programme, which empowers teachers to enhance their digital technology skills and knowledge of contemporary teaching practice.
"The Mind Lab by Unitec has been working hard to upskill New Zealand teachers at a primary and secondary level with over 1000 teachers already gaining deeper understanding of modern education through this postgraduate programme.
"I take my hat off to our first cohort of teachers for taking this crucial step to develop their digital and collaborative learning skills, as well as The Mind Lab team and NEXT Foundation for their ongoing commitment to shaping the teachers, students and innovators in the next generation of Kiwis."
NEXT Foundation was launched in March 2015 and will invest $100 million over the next 10 years to create a legacy of environmental and educational excellence for the benefit of future generations of New Zealanders.
In support of The Mind Lab by Unitec, NEXT Foundation has provided 800 tuition scholarships to allow primary and secondary teachers to access and undertake The Mind Lab's postgraduate programme in digital and collaborative learning, and build the skills and knowledge they need to prepare young learners for an increasingly digital future.
"We are proud to support The Mind Lab by Unitec as it reacts to the growing need for teachers and schools to consistently integrate digital literacy into the curriculum," CEO of NEXT Foundation Bill Kermode said.
"The NEXT Foundation Expert Teacher Awards are a reflection of our belief that expert teachers are key to transformational change in our education system. We commend this first graduating class for their commitment to improving their technical capacity and confidence and learning new ways of engaging students.
"The pace of technological change has led to a growing need for teachers and schools to consistently integrate digital literacy into the curriculum, and build an education system that sets our children up for a successful and rewarding future in a technology-enabled world."
The foundation has also provided a research grant to study the impact of the qualification, and will continue to support the qualification with 1350 scholarships in 2016.
As well as professional development for teachers, The Mind Lab by Unitec teaches school students from year 1-13 that attend education workshops in one of The Mind Lab's four New Zealand locations in Auckland, Gisborne, Wellington and Christchurch. Over the next five years additional new sites are planned with the ultimate goal of teaching 10,000 teachers and over 180,000 school students.
The Mind Lab by Unitec has also announced the offering of its postgraduate certificate to Auckland tertiary educators, expanding the opportunity to teachers at universities, polytechnics and private training establishments.
For more information about The Mind Lab by Unitec, please visit www.themindlab.com.