News
Pukoro comes to life online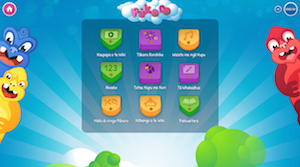 Creators of the Maori educational children's show, Pukoro, are entering a new realm to bring its characters, songs and puzzles to life, online.
TE AO PUKORO is the cyber world of Pukoro, full of interactive computer games, video clips with craft ideas and stories, printable colouring-in sheets and much more.
General manager of Kura Productions, Karen Waaka-Tibble says the development of TE AO PUKORO was something Kura had envisaged when Pukoro first started, as a way to provide support to whanau and kohanga committed to fostering te reo Maori.
"This is a chance for us to give our pre-schoolers' favourite te reo Maori television programme, the same value and depth as shows like Dora the Explorer and Sesame Street. Much of what makes up the website has been sourced from themes of the show itself, but the games have been created from scratch. It's new and exciting and we can't wait to see what the kids think of the games – remembering it's targeted at our pepi!!"
Content on the website has been taken from season eight of the hit television show and is all in te reo Maori, and was supported with funding from Te Mangai Paho's Digital Innovation Fund 2014.
Popular female Pukoro presenter, Naomi Toilalo, continues her presence on TE AO PUKORO as the upbeat voice for the bilingual navigational instrutions, to help non-speakers and learners of te reo Maori find their way around the site.
As a second language learner, she says "being part of a show that creates awareness of te reo Maori is a real privilege".
"My main goal when I was a teenager was that I wanted to learn Maori. I hoped that I could get into television so it's still quite surreal that I've been able to speak Maori on TV… it's also really cool to do a show that your kids love."
Series nine of Pukoro wrapped up earlier this year and Kura Productions are hoping to make a milestone 10th season in 2016 and take Te Ao Pukoro to new heights.
Executive producer, Quinton Hita says "resources of this quality for kohanga aged children are extremely rare and is paving the way for Pukoro to continue beyond television".
"We're trying to think of new ways to celebrate our reo and support those that want to learn… this is just the first step for us and hopefully we can build on this and create other reo-speaking worlds for our tamariki to engage with."
To watch episodes of Pukoro go to: http://www.maoritelevision.com/tv/shows/pukoro