News
Outdoor instructor recognised for inspiring students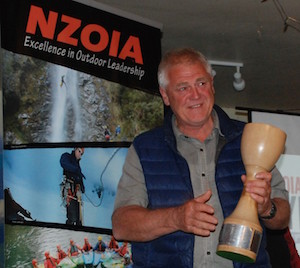 Geraldine High School head of Outdoor Education Drew Brown was recognised for his contribution to outdoor education with the 'Tall Totara' award at the New Zealand Outdoor Instructors Association (NZOIA) Awards, held at Peel Forest Outdoor Centre on Saturday.
The Tall Totara Award is presented to highly respected role models who have made significant contributions to outdoor education in New Zealand.
Described by his peers as the 'Obi-Wan Kenobi' of outdoor education, Mr Brown has worked as Geraldine High School Head of Outdoor Education for 20 years.
In addition to creating the school's outdoor education programme, his achievements include the development of a scholarship programme providing a pathway for students to work with local businesses and the creation of a high ropes course.
NZOIA chair Gillian Wratt said Mr Brown has shown an incredible history of commitment and set a shining example over his 20 years as head of department.
"He has worked tirelessly to get the Geraldine High School Outdoor Education programme to where it is now, and inspired a number of students to become outdoor instructors and guides. Many of these have gone on to become valued outdoor leaders themselves."
The Tall Totara awarded is presented to a current instructor who personifies 'excellence in outdoor instruction'.
Ms Wratt said as well as the Tall Totara award that signifies peer recognition amongst professional instructors, other awards are a valuable avenue to recognise the achievements of students and young professionals, helping them connect with experienced instructors.
Awards for 'Emerging Instructor' and 'Budding Instructor' were also presented to recognise outstanding young practitioners who are entering the industry.
This year's Emerging Instructor Award was presented to Tim Shaw of Adventure Specialties Trust, who achieved four NZOIA qualifications in two years.
The 'Budding Instructor Award' was presented this year for the second time. The recipients were Matiu Kapa of Aoraki Polytechnic and Nick Hardie and Sam Hensley of Tai Poutini Polytechnic in Greymouth.
This new award is presented to those in their final year of tertiary study who have shown significant potential to be involved in the industry as future instructors.
The NZOIA awards are held in conjunction with the annual NZOIA Symposium. This year's symposium was attended by 137 outdoor instructors, and included workshops exploring river rescue techniques, avalanche hazards, outdoor emergency care, conservation initiatives, and other courses to ensure instructors can keep their skills up to date.