Profiles
Developing opportunities at school with a view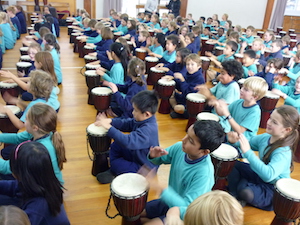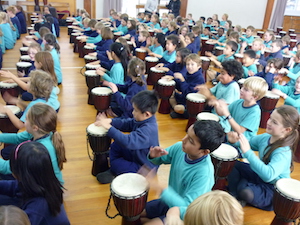 Built in the mid-1950s, when the first wave of baby-boomers were at school age, St Thomas's School in Auckland's Kohimarama has been experiencing significant growth over the last two to three years.
Principal Michael Maher, who took up the position three years ago, says he was attracted to the school because he could see that growth starting to occur in what was a "high-performing primary school within a supportive community".
Originally from Tipperary in Ireland, Mr Maher has been in New Zealand since 1987. After more than 15 years' teaching experience he was appointed as acting principal at Glen Eden Intermediate in 2008 and was principal of Orakei School for three years prior to joining St Thomas's in 2012.
Believing that education is the key to success in life, he sees his role at St Thomas's as giving him the opportunity to develop a school from both a pedagogical and infrastructural perspective, which will provide future- focused learning opportunities for St Thomas's learning community.
Three years ago, the roll exceeded 700 for the first time in the school's history, and this year it reached 800 for the first time and will stand at 831 by the end of the year, including 115 ESOL students. This substantial growth is the result of younger families moving into the area, and older generations moving away, Mr Maher says.
To cater for these increasing numbers, a new 12-classroom block was completed in December 2014, bringing the number of classrooms to 34, a new administration block is almost complete and the school is currently in discussion with the Ministry about construction of a second 12-classroom block.
The building project has involved the redevelopment of the junior area including a new playground with artificial turf surfacing, the relocation of eight classrooms into that area, and the installation of covered walkways. Staff and students at St Thomas's also enjoy the benefits of the school's scenic location – overlooking the sea and with Rangitoto Island directly in its sights.
"This has quite a positive effect on the culture of the school and we have made sure that the playing area is protected from any building development, which in turn protects the vista for the children," Mr Maher says.
The continued development of four school houses also help foster school culture and pride, with inter-house competition now an enjoyable part of school life.
From a pedagogical perspective, the school is developing MLP (Modern learning Practice) through a model of student-led learning.
"Students take joint responsibility for, and are seen as active agents in determining, their own learning journey. The theory behind this being that it empowers students to be in charge of their own learning. It's gone from teacher driven to student determined, and in this situation the students plot their own learning pathways," Mr Maher says.
"Their maths learning, for example, is closely aligned to assessment data, and the children take part in workshops to plug any gaps in their learning. It's still in the early stages but we are confident that it will increase achievement levels."
The school recognises that MLP is a concept involving a lot of change for teachers and the wider community.
"Schools are shifting from co-operative to collaborative environments, teachers are sharing teaching spaces, they are creating their planning on Google Docs – it's a whole collaborative space.
"The teachers at St Thomas's are fantastic. I've been so impressed with their enthusiasm and professionalism. We're building a culture of teachers enquiring into their practice and it improves the learning and outcomes for the students."
The new MLE (Modern Learning Environment) works well within a distributed leadership model whereby teachers' different skill sets are used in different areas, Mr Maher says.
"Teaching and learning happens in quite a shifting environment where spaces are created for teachers to share their passion with their students."
To help the teachers become familiar with MLP, they have been taken on tours of other schools where it is already in place, and this year they are working with a consultant and taking part in focus groups with parents and workshops with the school board.
"We have an Implementation Plan that we are putting in place over the next three years, which will give teachers time to explore different learning opportunities. MLP is a big philosophical shift towards collaboration and public practice."
St Thomas's students' activities extend into several other areas beyond their learning spaces. In recognition of their environmental efforts, the school has just become an Enviro Silver School, and students' efforts are evident in environmental sustainability in the school gardens.
"The local environment is also a focus for the school with some of the students undertaking shellfish monitoring at Okahu Bay and also doing some native planting by the stream that flows into the bay. We are working with our local iwi Ngati Whatua at Orakei on these projects," Mr Maher says.
The islands of the Hauraki Gulf provide another valuable learning environment for St Thomas's students, with year 3 visiting Tiritiri Matangi, year 4 and 5 classes visiting Motuihe, and year 8 students visiting Rangitoto just before they leave the school.
"This is a rite of passage for them as they look back from the island on to the school and think back on their time there."
The students also do well on the sports field, particularly at the local Interzone competitions, and also participate in the AIMS competition held in Tauranga for intermediate and middle schools, Michael says.
"This is the biggest gathering of its kind in New Zealand and our year 8 elite students who excel in soccer, hockey and netball are keen participants in the tournament."
St Thomas's is also fortunate to have some very "positive, passionate and skilled people," Mr Maher says. One of them, renowned children's book writer Leonie Agnew, was a finalist in the 2014 New Zealand Post Children's Book Awards and also won the Esther Glen Medal for her junior fiction novel, Conrad Cooper's Last Stand, which is set in Mission Bay during the occupation of Bastion Point.
Another teacher, Mike Hudson, is a well-established playwright and won the 2014 Playmarket Plays for the Young competition in the eight to 12-year olds section for his play Wide Awake.
"The students really enjoy that creative side of their learning they get from these teachers," Mr Maher says.
The school is also abreast of wi-fi technology, having recently been connected to the N4L network. Last year, students led by one of their inspiring teachers Claire Fromow, took part in Coding Week, during which they learnt basic computer programming skills.
"It's quite important for kids to get an understanding of computer coding," Mr Maher says.
Under Ms Fromow's direction robotics has become another exciting area of interest at St Thomas's, and the students are setting up a programme to make robots, using their newly acquired coding skills.
"With the shortage of computer skills in New Zealand industry, it's vital to get them interested and enthusiastic about technology. We have also taken delivery of our first 3D printer, and this will enable them to extend their knowledge and understanding further," Mr Maher says.
Fifty per cent of St Thomas's students identify as New Zealand European and 50 per cent as other ethnicities. The principal says he wants every one of them to be proud of where they have come from, and proud of their culture.
"I also want them to have a sense of St Thomas's place in this community, and to be proud of their school. I want them to keep pushing themselves academically and go on to become good New Zealand citizens, making the most of everything that New Zealand has to offer."