Teaching Resources
Collaboration technology: Equipping students (and teachers) with skills to thrive in the future workplace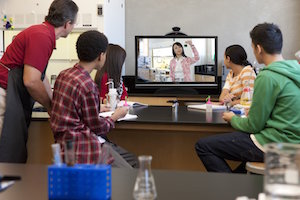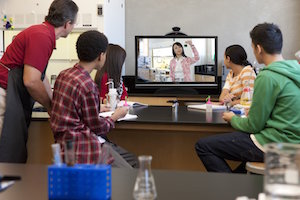 Previously, I discussed the impact technology is having on classroom dynamics and more specifically the role it is playing in 21st-century learning.
I would now like to explore further what steps we need to be taking as educators to ensure our schools remain competitive. There's a cultural shift taking place within education, driven by the changing needs of students to ensure they are fully prepared to thrive in the digital economy.
For schools to succeed, delivering a technology-enabled curriculum is no longer a nice to have, but critical to the success of students throughout their education and in the global economy. When parents are doing the rounds of schools to determine where to send their child for secondary education, the school's use of technology is a critical factor. Students and parents expect it.
It's quite simple. Integrating technology is essential in the classroom of the future. If schools don't do it, they risk parents sending their children elsewhere. Technology is here to stay. Latest global figures show the Bring Your Own Device (BYOD) market is expected to reach $266 billion by 2019. You either embrace technology or risk losing students.
I recently presented at Edu-Tech in Australia where I had the chance to meet with educators from Australia and New Zealand. Within New Zealand we are seeing a major shift towards collaborative and flipped learning. Schools and students are working closely together, sharing content and using solutions that companies like Polycom are developing. Students living in rural locations are able to access and share content like they would sitting face-to-face in a classroom and more importantly, can enjoy the same learning advantages as those students living within a city. Let me share an example.
Case study: Creating a collaborative culture: Northcote and Kaitaia colleges
Northcote College is a Polycom customer and member of HarbourNet, a geographic cluster of schools within New Zealand's Virtual Learning Network Community (VLNC). The college has been working closely with Kaitaia College, also a Polycom customer and part of the VLNC via the FarNet geographic cluster, and these schools have recently started a unique partnership. While both are experienced at using video collaboration to defy distance, this is the first time they are sharing teaching resources.
A Northcote teacher is delivering a Physics Level 3 to a group of Kaitaia College students who would otherwise miss out.
Tony Zaloum, physics teacher at Northcote College explains: "Our collaboration with Kaitaia College to deliver a physics class is fairly new. We are initially running two short video collaboration sessions per week. We also find that learning continues when the teacher is not present through online student collaboration. Teachers also start thinking about their evolving role as 'teacher' and how they could do things differently, and better, for the students that are with them in the classroom.
"One of the challenges in sharing resources across Northcote and Kaitaia colleges has been matching timetables. To address this we are using intervals and lunchtimes. In addition to video, we make extensive use of a private Google Community where students pose questions and I provide input that benefits the whole class (rather than a one-to-one approach).
"The benefits for students are clear. The Kaitaia students now have a physics teacher. The students learn very important skills by working in a blended learning environment versus the sometimes more passive learning approach that can be adopted within a traditional classroom. With distance learning, supported by a range of technologies including video collaboration, the students take a far more proactive role in their learning, much like how they will operate in tertiary study and beyond."
As educators become more accessible to students through technologies that drive collaboration we will see more examples of the teaching Tony is delivering to these Kaitaia based students.
Is there a right way to integrate technology into the classroom?
New models for how we as educators work and the 'spaces' we work in are emerging. So how can schools and teachers remain ahead of the technology curve? One of the critical factors is improving the quality of teacher learning.
Government-driven initiatives in New Zealand like the teacher-led Innovation Fund, designed to support the development of innovative practices within teaching, are helping to act as a catalyst for change. Projects are varied and include flipped classrooms, a pedagogical approach in which the learner can view recorded lessons anytime, anywhere from the convenience of their mobile device. This allows educators to spend more one-on-one time with students working on group projects, completing homework and participating in a more in-depth discussions – all during class time.
For me, as an educator, it's about the complete educational experience and connecting the technology dots. It's not just about using videoconferencing in the classroom, it's about creating a collaborative learning environment where it is possible to integrate and work with students using multiple tools and technologies. From interactive whiteboards to laptops and mobile devices. It's about creating a learning experience that is up-to-date, engaging and effective.
Learning analytics is also top of mind for educators today; it offers the ability to personalise a meaningful, engaging learning experience for students. The ability to track their progress, and get early intervention information can help educators make informed decisions about strategies that can make a difference for a student.
Polls and surveys provide several benefits in the classroom. Teachers can break up their lesson with a survey or poll to gauge whether the students understand the information presented. Polling allows students to analyse what they have learned, making the lesson more effective and lasting. Finally, they can stimulate further discussions in class.
When teachers are successful in their innovative teaching methods, they can create a "hate to miss environment." When students have to miss class they ask for a virtual meeting room (VMR) number they can use to connect with their regularly scheduled class, instead of the assignment they will be missing.
Preparing your students for the workplace of the future
There are no two ways about it. We live in exciting times where technology is enabling students to collaborate and learn so much faster than ever before. When today's students join the workforce of the future they are going to know how to hit the ground running, and not think twice about using technology to collaborate with people from anywhere and on any device.
Technologies such as video conferencing solutions, DropBox, Microsoft Office, Google Hangouts, smart boards, tablets and apps are becoming as common in the classroom as they are in the office. These technologies are benefitting students in a variety of ways, aiding with collaboration and remote learning, providing access to experts or specialists, and encouraging attendance as well as self-driven learning.
Using these tools, students learn how to save time and work effectively, collaborate with their peers, integrate different technologies into their projects. Students that learn remotely and engage with experts outside of their school or take part in virtual classrooms will be able to more readily understand and embrace the challenges of the mobile workforce. I believe these students will be able to migrate more easily to tertiary and work environment having used these skills within the classroom.
For years students and faculty have used an assortment of technologies for teaching and learning. Education decision-makers are looking at how to create a more holistic environment and raise the bar on student engagement and achievement. As educators we have more flexibility and are no longer constrained by bricks and mortar. For me, the classroom of the future has become the workplace of the future because most students already have access to the tools that will set them up for success in their learning and workplace environments.
The question to ask now, is your school ready to embrace the workplace of the future?