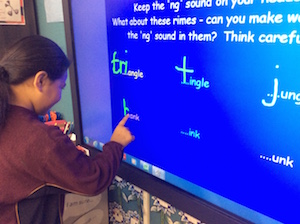 Sir Edmund Hillary Junior School in South Auckland introduced IWB technology from Activboard NZ several years ago, but more recently has started having the Sahara Interactive Flat panel technology installed.
Principal John Shearer says the new technology has a number of key advantages.
"Being smaller, the touch panel is excellent for small groups of students. The children can touch the screen and work directly on it. The brilliant display also means that you can use it in a brightly lit room and it's still vibrant.
"It gives the students a shared learning experience where up to four or five students can work on the screen together as a group. They can all get in there. It's dynamic, things can be changed and moved around, and it brings huge engagement from the kids. They do their own enquiry and get such enjoyment from that. They like having control."
The school chose to have their screens mounted on the wall, which makes good use of classroom space, Mr Shearer says, and avoids having leads and connections lying around the room.
While some of the teachers initially preferred the larger IWB screens they were used to, they have now fully embraced the new technology, Mr Shearer says.
"There's no turning back now. Today's classrooms need to step up a level and the touch panel is a great vehicle for collaborative teaching and learning. It's been an absolute success."