News
Poetry competition to mark quake anniversary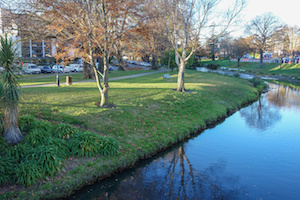 Budding poets in years 4 to 8, are invited to enter a short poem in the 'Bloom Poetry Competition', a collaboration between Poetica, The River of Flowers project and Canterbury Museum.
The winning poem will feature in and inspire a mural created on a wall in the museum during an exhibition commemorating the fifth anniversary of the February 22 earthquake. The mural will be revealed on February 22, 2016.
The topic of the poem, to be no longer than eight lines or 40 words, is "Who or what gave you strength to carry on after the earthquakes?"
Poetica's Elise van Bentem says the topic was chosen to give students a wide range of things to write about.
"It could be the student's family, friends or teacher, their hobby, a song or a story, or a smile, a hug or a walk on the beach. It could be anything or anyone that gave them strength after the earthquakes. We look forward to being surprised!"
The poetry competition is being run through schools with entries closing at 5pm on November 9.
A panel of judges will choose the five best poems, which will be posted on the Poetica Facebook page on November 18. The public will have until 5pm on December 11, 2015 to vote for their favourite poem.
Full details and conditions of entry are available on the Canterbury Museum website.
The exhibition, also called Bloom, will open in early February 2016.The special exhibition will run for the whole of February and feature floral tributes by the people of Canterbury, as well as poetry.
River of Flowers creator, Michelle Whitaker says they are excited to be working with Poetica and the museum to create this special project.
"We know this anniversary will be a big one. We want to provide the space for people to reflect on the last five years. Bloom is one opportunity to playfully explore the good in our recovery journey – there will be something for all ages."