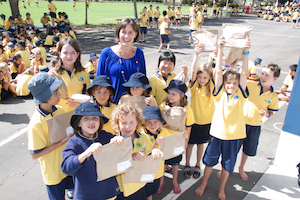 A long-standing institution in most New Zealand schools, the school canteen or tuck shop can be a lifesaver for busy parents who can find it difficult to prepare lunches for their children every day. Parents know the tuck shop will be able to cater for their children's lunch and snack needs on the days they don't have time to.
However, for those running the tuck shop, there are issues such as how much food to order in, handling cash, and stress created by hungry students clamouring to purchase.
The advent of online ordering has made it easier for children to access healthy foods from a range of sources, and now school tuck shops have been brought into the loop, making it simpler for them too.
Lunchonline
Paparoa School in Christchurch, who operate a tuck shop, have been using the Lunchonline ordering service since mid-2014, with the orders being delivered to their tuck shop for the students to collect.
School cafeteria volunteer Emily Douglas says the school offers lunches for the students on Wednesdays and Fridays.
Students can choose from a range of items, which are ordered in by the PTA, including muffins, sushi and drinks, or lunch items from Pita Pit, all of which are ordered through Lunchonline.
"For parents, having credit running on Lunchonline means they don't have to look around for spare cash to give their children in the morning, and that's a massive benefit for them. It also saves the people in the cafeteria a lot of time and work," Ms Douglas says.
"And there's a lot less wastage of food. Before we had Lunchonline, they would cook a few extra items to make sure there was enough, but now they know exactly how many items have been ordered, so there's nothing wasted.
"It's also easier to make tweaks; for example, if we run out of an item, we can ask Lunchonline to take it off the menu until we have brought in more supplies."
The savings on food wastage outweigh the cost of the service, and the cafeteria profits are up, Ms Douglas says, and adds that selling food in the cafeteria is also a fundraising opportunity for the PTA.
Managing director of Lunchonline David Chapman says he is keen to assist school canteens/tuck shops gain the benefits of using an online ordering system to improve the efficiency and running of their operations.
"Many schools could benefit from utilising our online lunch system, which Paparoa and other schools have realised," he says.
ezilunch
A sophisticated solution that brings tuck shops into the e-commerce sphere is Kindo, from software company, The Growth Collective.
The Growth Collective supplies schools with two online solutions for food ordering and payment: ezlunch is an established online school lunch service that allows students and their parents to buy healthy hot and cold lunches from local cafes and external caterers, who in turn deliver the meals directly to school.
The software framework developed for ezlunch has been subject to further development and is now a standalone product called Kindo. Unlike ezlunch, Kindo can be used in a much wider context to enable online payment for school canteen items, school donations, fundraisers, sports subscriptions, camp fees and any other school-related purchase.
ezlunch has been operating for five years now and has become a known and trusted brand for many schools and thousands of families. Focused on providing fresh, nourishing food, ezlunch offers menus that carry the Heart Foundation's Fuelled for Life 'tick'.
Kindo is a newer product that creates efficiencies across all school payments, and allows school canteens and tuck shops to take their orders and payments online.
"Pre-ordering food using Kindo works well for school canteens because it's hassle-free," The Growth Collective director, Sandra Finlay says.
"The food items are clearly labelled with each student's name, there's no cash to handle and no lost orders. By creating a fast queue in the canteen for pre-ordered lunches, it also brings in more business."
According to Ms Finlay, schools throughout New Zealand are enjoying the flexibility offered by both of these options.
"ezlunch is different from other online lunch ordering systems because it allows schools to trial the wider Kindo system," she says. "Often being able to dip a toe in the water, leads schools to add other online payment options once they see just how easy the system is. Any school payment can go through Kindo. Food ordering is just the beginning."
Ginny Gartland is the principal's PA at Cockle Bay School in Howick, where they've been using the ezlunch system for over two years. Ms Gartland, says: "Ezlunch is the easiest way to provide your students with nourishing and healthy school lunches with no 'man power' required by the school. Once you try you won't want to do anything else."
Fuelled4life – healthier choices made easy
Why is better nutrition in schools important?
As education professionals you see first-hand the impact healthy food choices have on a child's ability to learn and actively participate in a classroom.
It's important to also recognise that the responsibility of providing healthy food environments doesn't just lie with parents and caregivers. Schools and ECE services play an important role too.
Research tells us that creating a culture of healthy eating and helping children to develop the healthy food behaviours will increase their opportunity to learn and support them to grow into healthy adults.
In New Zealand our child health statistics aren't something to be proud of:
One in10 children is obese, with this rate steadily increasing in the last 10 years (MoH 2011/12).
One in five children aged two to 14 has had fizzy drink three or more times in the past week.
Children who are obese in childhood are more likely to go on to be obese in adulthood.
Being overweight or obese are major risk factors for type2 diabetes, heart disease, stroke and common cancers.
The Heart Foundation can help your school or ECE service to provide healthy food environments to your students. Fuelled4life is our free schools-based programme that helps you provide healthier food choices within your school environment.
How can Fuelled4life help?
Fuelled4life, based on the Ministry of Health's Food and Beverage Classification System (FBCS), is a free, practical tool giving schools a head start in providing healthier foods.
It aims to increase access for young people to healthier food and beverages, to inspire food services to provide tasty, nutritious products and to encourage the food industry to produce and supply healthier foods and beverages to young people.
Fuelled4life breaks down food and beverages into everyday and sometimes categories.
Everyday foods and drinks are lower in energy, fat and salt so are appropriate for everyday consumption.
Sometimes foods and drinks are still good choices but are a bit higher in energy, saturated fat and salt and so should be eaten in moderation. Sometimes foods and drinks should not dominate the choices available.
For people involved in selecting foods and drinks for canteens, vending machines, fundraisers, school camps and ECE service menus and special events, Fuelled4life identifies the healthier options.
How to get the benefits of Fuelled4life:
You can be the start of making a difference! If you are a teacher, principal, catering manager or cook and would like to see some changes in the food and beverages available at your school or ECE service, here is what to do:
Sign up to Fuelled4life and you'll receive a free Buyers' Guide to help you choose healthier food and beverage options
You'll have access to the Fuelled4life website and newsletter with tips, recipes and special deals to improve nutrition in your school
By signing up you'll be eligible to attend workshops and be involved in competitions and promotions
For more information contact: the Fuelled4life team on (09) 526 8550, email [email protected] or go to www.fuelled4life.org.nz