News
Magician and his parrots promote anti-bullying message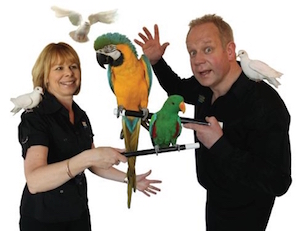 One of New Zealand's most celebrated magicians is on the road again, using his special blend of magic and humour to serve up invaluable social messages to Kiwi kids.
And he has Zazu, Ecce and Ruby – exotic, talking parrots – along for the ride.
Elgregoe and his parrots are presenting 'You've Got the Power' – a show specifically designed to support the 2015 primary and intermediate school curriculums.
Through the charisma of magic Elgregoe, also known as Greg Britt, has delivered shows focused on anti-bullying education for almost 20 years.
He and his show assistant, wife Sue, use tricks, puppets, ventriloquism, music and props to enliven his anti-bullying messages. The show draws attention to what bullying can look like, and teaches kids about how to treat others.
The 2015 'You've Got The Power' show, supported by Trustpower, looks at how we can all be part of a solution to bullying, and is themed around 'what you can be'. Throughout the show, Elgregoe reinforces key values: respect, resilience, caring, honesty and the importance of contributing.
Special guest Stinger the Bee and one lucky audience volunteer also help students realise they each have power to make a difference.
Fifteen years ago, a school principal said: "If you are a real magician, let's see if you can make bullying disappear."
This challenge led Elgregoe down a path to addressing the issues associated with bullying, by combining education with his love for magic. After seeing the magician educating in action, Trustpower pledged support in 2005. With the company's support, Elgregoe has built a nationwide school presentation, reaching thousands of New Zealand children annually.
Trustpower Community Relations Co-ordinator Suzi Luff says Elgregoe has a unique ability to deliver an important message in an upbeat way.
"Trustpower has always been impressed with Elgregoe's passion and ability to engage with children. We are especially proud to support this anti-bullying programme as it really connects with students and empowers them to make the right choices.
"Feedback from schools is that his message is getting through and making a real difference," says Mrs Luff.
Elgregoe says this year he wants to see students having fun while they look at the serious issues around bullying.
"I am one lucky guy. I love performing my tricks, doing ventriloquism, working with live parrots and travelling; and I get to do all this for a job while also delivering a valuable message for all students," says Elgregoe.