News
Green Bay High students win $3000 for 'Waterview Connection' entry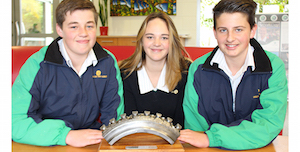 Three students from Auckland's Green Bay High School have won a $3000 technology package for their school for their winning entry in the Waterview Connection: A Learning Pathways Challenge programme.
Three groups of year 10 students from the school had each prepared a three-minute presentation to showcase their knowledge of engineering and what they had gained during their Waterview experience.
Principal Morag Hutchinson and three of the teachers selected the entry by students Josh Smith, Amy Scott and Ronan Cowle, which then went on to win the overall competition, in which entries were submitted from 19 Auckland schools.
The students were invited to speak at the Challenge Event last Friday about their experiences from the Engineering E2E Waterview Project and were presented with the $3000 technology funding package by Tertiary Education and Skills & Employment Minister Steven Joyce.
This programme was an engineering education initiative, enabling Year 10 students with visits and learning experiences to help them make decisions about further learning – in particular for engineering as a career option.
The E2E project took place between June and September this year and had two components: an in-schools programme, incorporating literacy and numeracy; and an inter-school Challenge, focusing on the work taking place at the Waterview Connection construction site.