Property
Modern canopies and shelter bring numerous advantages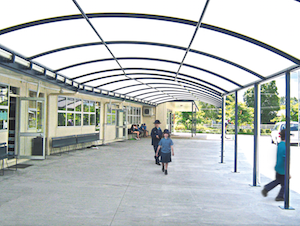 Let's face it, if your school could not benefit from some extra space, it is probably in serious decline.
Finding the funds to obtain it, though, is the perennial problem, given the cost of building anything orthodox.
However, particularly with the development of some modern materials, canopies and other forms of shelter can provide generous amounts of indoor-outdoor space at a far more reasonable cost.
At most schools, some fairly large outdoor areas, recreational and intra-school transit in particular, can be made much more practical to use in the fickle New Zealand climate. A major side-effect is to remove considerable pressure on a school's indoor spaces, while also helping to transform some fairly plain looking schools into far more attractive ones.
Until relatively recent times it was usually the school summer sports days that saw the main use of additional temporary enclosed features, such as tents or canopies. Usually of canvas or similar fabric, they provided some protection from the burning sun, passing showers or annoying gusts of wind. Tents in particular provided and still provide an enclosure for sports administrators or refreshment facilities.
Over many years they have made the difference between success and failure to countless outdoo sporting and cultural events. Marquees can be wonderful entertainment facilities and provide a feeling of excitement for a dance or concert where the school has no orthodox building of that size. Very few schools would own adequate tents, marquees or sun shelters, but they can be readily hired.
Several companies specialise in providing outdoor solutions in the form of portable shade and shelter for use in all aspects of outdoor leisure, events and activity for all seasons. They offer a wide variety of products ranging from massive marquees to very simple sun shades – some of them even inflatable. Even huge marquees can usually be set up or taken down and removed remarkably quickly by as few as two people.
But these are temporary facilities, set up for a special event and taken away immediately after. These days, new materials mean canopies and other forms of sustainable buildings have the potential to be an essential component of a school for many years. Pre-designed, they can be installed quickly with very little disruption – or none at all during the holidays. When their use is outgrown or it is time to upgrade to something else, this can also be done quickly and efficiently.
They are most likely to be used in the following areas:
Forming a covered, light walkway providing protection from the elements between different areas of the school
Allowing students to sit or play outside but undercover, whereas previously they would have been forced to sit in classroom in poor weather or blazing sun
A space where outdoor lessons can be held in warmer months
A shared space to connect two or more classrooms.
Canopies and shelters for schools provide children with the opportunity to play and learn outside, no matter what the weather, all year round, a seamless link between being indoors in the classroom and outside, in a sun and rain-protected environment, enabling free movement between them.
Each shelter or canopy can be individually made to suit the designated site, and the modular approach means canopies can be added to as funds permit. Prospective customers should always expect to obtain high- quality products, well-researched advice and a comprehensive guarantee.
Fresco Shades, established in 1998, is New Zealand owned and provides cover for homes, schools and businesses and has won international awards for its innovative designs.
"We designed and developed our award-winning product range ourselves and we can custom make a shade a school structure to fit most situations," manager Megan Cummins says.
"From the beginning our emphasis has been on innovation rather than replication, and finding solutions to suit even challenging situations.
"At Fresco Shades we're aware of the importance of using the best product to resist New Zealand's unpredictable weather and we import our architectural- strength PVC roofing material from globally recognised Serge Ferrari, based in France. This special fabric not only last for many years, but also stops harmful UV rays, a real benefit in New Zealand's sometimes rigorous climate."
Mrs Cummins gave the example of Fresco Shades' work for the Seventh Day Adventist School in Hamilton.
"This primary/intermediate school, built in the 1970s, had 2.5 hectares of grounds but insufficient sheltered spaces for pupils. Their brief to us included: creating extra space outdoors that is sheltered from the elements so that pupils can eat outside, also to create an 'outdoor classroom' shelter from the rain when walking from the classrooms to the office, and to make the adjoining classrooms cooler in summer. Overall, they needed to generate more usable space outside in a cost-effective manner. The design was difficult due to the unusual angles, but we custom designed a solution that achieved the wish list."
And what has been the reaction to the work?
"The SDA school administrators are so thrilled with the canopy they have asked us to create similar canopies for three more of their schools," she said.
However, the before and after pictures alone tell the transformation story.