News
Kiwis getting REDiculous for Red Nose Day appeal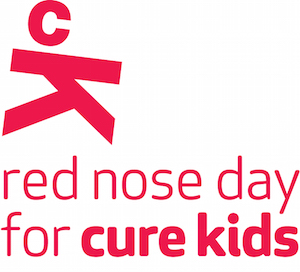 Thousands of Kiwis around the country are taking part in the iconic Red Nose Day appeal this Friday, August 21 to raise money for vital medical research into dozens of serious illnesses that affect our children.
Cure Kids, the charity behind Red Nose Day, hopes to raise more than $1 million to save, improve and extend the lives of thousands of kids.
"New Zealanders really get behind Red Nose Day and we want to make sure they have fun while they're at it by getting a little bit REDiculous with us, says Cure Kids' CEO, Dellwyn Stuart.
"Finding cures for serious health conditions that Kiwi kids live with is something that we can all help achieve. You never know which dollar will help fund the cure," she says.
Cure Kids is currently funding research for serious health conditions including cot death (SUDI), stillbirth, leukaemia, rheumatic heart disease, burns, cystic fibrosis, asthma, inherited heart conditions, mental health conditions, among others.
This year Red Nose Day is set to be action packed with a diverse range of activities and events happening around New Zealand, including a new home auction and a celebrity lead 'bright red beard shave off'.
Around 400 schools and hundreds of businesses have already signed up to get REDiculous, with more than 60,000 red noses sold in preparation to don on the day, including red noses for cars.
Seven-year-old Aucklander Eva Mitchell suffers from gastrointestinal failure and has spent most of her life in hospital. Her mother Tiffany says: "We've been lucky enough to have Eva in my world for seven years and without treatments made possible through medical research that wouldn't be the case.
"We wouldn't wish what we've gone through on any other parent. I know there is a cure waiting to be discovered – we just need to fund the research to find it," Tiffany says.
Kiwi celebrities and public icons, including Steven Luatua and Brendon Pongia, are also lining up to support Red Nose Day by dying their beards into a REDiculous bright shade of red for the cause, raising more than $42,000 so far.
"Supporting Cure Kids is about doing everything possible to help kids in need, and having a bright red beard is a great way to do that. I was fortunate enough to spend time with some Cure Kids ambassadors earlier in the year. They're such great kids, and that's why I'm honoured to be involved," Mr Luatua says.
One business getting REDiculous is Mike Greer Homes, which will donate the profit from the sale of a house, situated in Millwater north of Auckland, towards Cure Kids. The four-bedroom house is expected to sell for in excess of $900,000.
People have already started sharing their REDiculous efforts by posting red-nosed photos on social media using the #REDicuous and #RedNoseDayNZ hashtags.
Donations can be made online through the Red Nose Day website (www.rednoseday.co.nz), by texting NOSE to 933, or at participating retailers around New Zealand.
For Red Nose Day updates follow us on Facebook (www.facebook.com/CureKidsCharity), Twitter (www.twitter.com/CureKidsNZ) or YouTube (www.youtube.com/CureKidsNZ).
#REDiculous #RedNoseDayNZ #HelpCureKids