News
Kings College wins Monetary Policy Challenge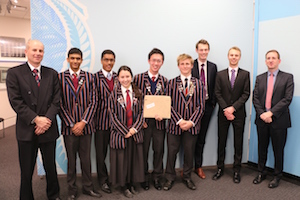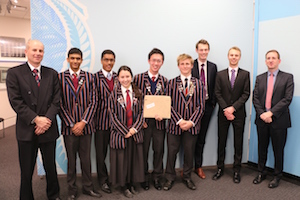 The Reserve Bank last week announced that King's College, Auckland, was the national winner of the 2015 Monetary Policy Challenge (MPC).
Waikato Diocesan School for Girls was placed second, and Taupo-nui-a-Tia College came third.
The MPC expands secondary school economics students' understanding of monetary policy, and links to NCEA achievement standards. Just like economists working in the Reserve Bank, each team that entered the MPC analysed the economic conditions facing New Zealand and the outlook for inflation to decide on an appropriate setting for the Official Cash Rate.
The teams first presented their decisions online via videoconference, and the top six teams in New Zealand were then selected to present at the national finals in Wellington.
The national final took place at the Reserve Bank in Wellington last Wednesday, and the judges were Assistant Governor John McDermott and two Reserve Bank economists, Jed Armstrong and Hayden Skilling.
The judges said all of the presentations were excellent and the teams demonstrated broad knowledge of monetary policy and factors currently affecting the New Zealand economy, such as changing dairy and oil prices.
"All of the schools coped extremely well with some very challenging questions and had a sound understanding of how monetary policy flows through to affect the economy," Dr McDermott said.
"The King's College team were particularly impressive in explaining the difficulties associated with monetary policy implementation in the hypothetical case where interest rates have reached the zero lower bound."
King's College won $2500 in prize money for their school and each team member also won prizes worth $500. The team was invited to travel back to the Reserve Bank in Wellington to watch the release of the next Monetary Policy Statement by Governor Graeme Wheeler, meet with senior decision-makers, and see first-hand how economic theory is put into practice.
Waikato Diocesan School for Girls won $1500 and Taupo-nui-a-Tia College won $750 in prize money for their respective schools. The other national finalists were Macleans College (Auckland), Napier Girls' High School, and Diocesan School for Girls (Auckland).
"The national finalists all achieved at a high level and had clearly put many hours of study and preparation into their entries in the competition," Dr McDermott said.
"We also acknowledge the efforts of the many teachers who have contributed valuable time and effort to inspire and guide their students."
The MPC is open to all New Zealand secondary school senior economics students and runs annually from May to August.