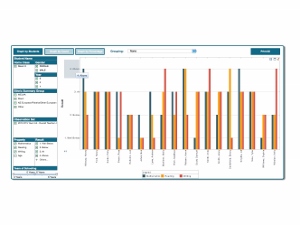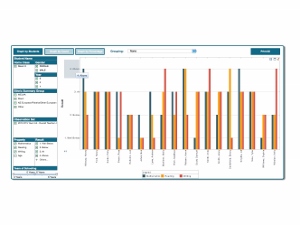 School Management Systems (SMS) are designed to collect, store and access student information and also provide information to parents and the school community.
There are a number of companies providing SMS and to help schools with their research in making the decision, a document on the Ministry of Education's website, entitled Choosing & Implementing a Student Management System, provides relevant information.
KAMAR
School Management System provider KAMAR is one of the four main SMS providers in New Zealand, with around 340 secondary and composite schools, plus 14 primary and intermediate schools currently using their product, the company's director, Kent Lendrum says.
Developed as a complete school administration package specifically written for New Zealand schools, KAMAR offers all the functions administrators need to keep track of students and their activities, as well as many other functions including online awards, home contact, pastoral, resource booking, reporting and timetabling.
"Keeping the data base of students is the core function of KAMAR, which includes a flexible and easy to use Timetabling module, necessary for secondary schools," Mr Lendrum says.
"Schools put all their classes into the system and it generates the days and times for all the different classes and courses."
KAMAR also interacts with NZQA, a relationship it has had since it started working in school administration in the late 1990s. It is approved for the Ministry of Education Roll Returns and meets National Standard requirements for junior aged students.
When a school decides to introduce KAMAR, the company's trainers visit the school on-site, to train the staff and set up the software, helping them change over from their existing system if required. The Help Desk provides ongoing support as necessary via phone, email or live chat.
MUSAC
Another major provider of SMS in New Zealand schools is MUSAC, which was established over 25 years ago and is based at Massey University and supported by a senior development team.
Leveraging their extensive customer knowledge and the services of educational thought leaders, MUSAC developed edge, a simple and secure cloud-based tool, with a focus on tracking student achievement.
Along with being able to access edge from any device that accesses the internet, it also seamlessly integrates with Xero, Paystation credit card payments, Ministry of Education enrolment and compliance systems, MUSAC Library Manager and PoLi – no more manual file upload or download, Jeremy Dombrowski says
"The edge team have worked hard to challenge the status quo and use good/best practice concepts to take the complexity and cost out of administration," Mr Dombrowski says.
"Our focus is to give teachers, students, parents, senior managers and principals better information concerning student progress and achievement – in a holistic sense. Ask any teacher – learning is not just about percentages, standards and credits. Taking a best practice approach to administration means we can focus more of our thinking and development on what really matters – student achievement."
edge has been designed as a cloud-based system in the way it functions and the user interface.
"Computer systems are made for people to use and so often the visual appeal factor is overlooked, which is just bizarre," Mr Dombrowskis says.
"We've also seen attempts at data transfer protocols come and go, therefore we designed our edge data architecture so information stays with the student no matter which school they attend.
"People in edge exist as entities once and are linked by relationships – whether that be a school enrolment, class membership parental or sibling – edge mimics the real world!
"As far as technology goes it is far from revolutionary. In terms of what is available in the New Zealand SMS market it absolutely is. We've also created Interfaces (APIs), which will enable third-party vendors to add further value to data from edge.
"We've certainly watched what Xero has done and their success and while we are far from a Xero, there is no point reinventing the wheel. Xero uses APIs extensively for their business partners to add value to the core Xero general ledger.
"We see an analogous ecosystem being built on top of edge, albeit on a smaller scale. "MUSAC is also about to release a Win8 App leveraging some of our APIs through a collaboration with Microsoft and Marker Metro.
"Like MUSAC Classic, edge covers all New Zealand school types primary, intermediate, middle, area and secondary. It has been a challenge to get to where we are today, but the benefits of being able to track a student's progress holistically over their school career is unparalleled."
Assembly
The Assembly Student Management System fulfills all the requirements a school looks for, but with one key difference from other SMS products, says company representative Alvin Brown. And that's interactive data visualisations.
"This unique feature allows you to explore, drill down and analyse your data on dashboards. Data can be seen in action: select different groupings and see the changes as you request them live on your screen."
All aspects of the school's operation, including student assessment, attendance records, texting via Early Notification, Board of Trustees reports and professional Caregiver Reports are part of the Assembly package. All data can be displayed in real time and can be combined, collated and integrated across all sectors of the school community. Searching for a student in Assembly is a breeze – all information on a student is accessible from one page, saving time for administrators and teachers. Attendance is made easy with single screen data entry and student popup with Caregiver contact details.
The system has the Ministry of Education's tick of approval and it checks and validates information entered to comply with the Ministry's Roll Return and ENROL requirements.
National Standards reporting is made easy with simple anniversary data entry and anniversary alerts and robust error checking to ensure Ministry requirements are met, Mr Brown says.
"Another feature administration staff will find particularly beneficial is the link with the accounting software system Xero. The Assembly package includes a full Accounts Receivable module where you can invoice, receipt and report with ease. We have a unique relationship with Xero, as we are the only SMS option in New Zealand to integrate with them."
A custom-written App for iPhones and Android mobile phones is available for Assembly users, giving teachers access to student information outside of the classroom.
Assembly SMS was established in Christchurch five years ago and to date has been installed in over 400 schools throughout New Zealand. The Support Team is based in Christchurch.
"Help is never far away with Assembly. Email or call our 0800 help line to talk to our amazing support team. Professional developments webinars are scheduled Monday – Thursday and are free for all Assembly users. Attendees are supplied with a recording of the session to refer back to."
The set up of Assembly SMS is extremely easy, with no installation or IT expertise required. Everything is completed within house, making the client's initial experience hassle free. All new Assembly schools are assigned an Assembly support team member to guide you through the transition process.
PCSchool
PCSchool School Administration Software connects all facets of school management, attendance, curriculum, timetable, full financials and teacher/parent/student web portals seamlessly through one common database. Schools can value add by purchasing individual modules as they expand or by integrating PCSchool with their existing Learning Management Systems.
Director of information services, Auckland Grammar School, Cameron Watt: "When Auckland Grammar School decided to change our SMS package we were looking for a system that would allow us to integrate our scholastic, pastoral and financial systems. PC Schools was the best-fit package that suited our system requirements. Their presales service was excellent and they worked closely with us to ensure that their product would be able to meet the needs of our school.
The high level of after-sales support and training meant that the change of SMS went very smoothly and our staff were able to confidently use the system in a short space of time. Within 18 months, we have been able to expand beyond using the Scholastic package to also use the Debtors, POS, International, Parent-teacher interviews, online subject selection and other modules. The PC Schools help desk is fantastic and are reliable."
Establishing itself as a leading SMS in New Zealand schools 10 years ago, PCSchool is fully accredited with the Ministry of Education and compliant with on-line roll marking , Student Record Transfer, ENROL (Arrivals/Leavers) and Get Check NSN. Its web-based controls include National Standards profiling to assess the growth of a student across their years of enrolment as well as NZQA Analysis allowing inquiry of results by gender, ethnicity etc. and integration with the NZ Pathways initiative.
PCSchool offers flexibility to schools from large schools such as Rangitoto College (3200), Avondale College (2600) and Auckland Grammar School (2500) to small schools like Chapman College (82) and Ficino School (120).
Associate principal at Rangitoto College Don Hastie sasy when they decided it was time for the college to replace its in-house developed student management system they knew exactly what they wanted.
"We required software that allowed us to embed our processes rather than drive them. It needed to be fully integrated to run all aspects of our operation, it needed to be flexible to allow for customisation, and it needed to be future focused. Above all it needed to support our 3200 students and 270 staff. In PCSchool we got all of that and more. Wrapped around that we found a company that listened to us and were responsive to our needs. Well done PCSchool."
Catering to the needs of smaller schools PCSchool offers a fully hosted solution to user such as Vicky Preston of Chapman College.
"Chapman College is a small private school of 82 students; we have limited resources when it comes to managing both our computer software and hardware. PCSchool offers a hosting service that gives us 24-hour ,web-based access to our Student Management System. The team at PCSchool manage all software updates and nightly backups. The thought of knowing our data is secure and accessible anywhere, anytime and backed by excellent support from the wonderful team at PCSchool is very reassuring and much appreciated."
Future focused and user driven PCSchool's current developments include converting its software into a complete web/browser based product fully responsive to any device, and workflow implementation across areas such as behaviour, eforms and purchasing.
School Links
All schools have emergency response plans and one key element is identifying how situation updates will be communicated to parents and caregivers. With many schools relying on email, phone trees and social media, it became glaringly apparent to Christchurch-based company School-links, even before the 2010/11 earthquakes, that schools needed a more robust solution, says managing director Andrew Balfour.
School-links already offered a browser-based emergency alert feature, he says.
"School closure? No problem, all parents were emailed and texted at the click of a button. The system also provided delivery reports reducing the need to phone parents to a manageable few. Plus the system was perfectly adequate in most emergencies where schools could still access a device, a network and power was on."
Mr Balfour, cites two examples where the School-links emergency alert system proved itself invaluable. When a tornado hit the North Shore in Auckland, Albany Primary School immediately alerted all parents that children were safe. At Otumeotai Intermediate, management were able to swiftly notify all staff and students across the campus that a lockdown was underway.
However the earthquakes made Mr Balfour aware that they could do more and his development team set to work.
"School-links now offers a smartphone app so that even if the school is inaccessible and the power down, parents and caregivers can still be updated via a smart device."
School-links integrates with a school's Student Management System for its Ministry-approved absence management tool that enables schools to alert parents to the unexplained absence of their child at the push of a button, avoiding that other dreaded scenario of a missing child.
"School-links continually strives to provide the New Zealand education system with the best that technology can offer to facilitate communication between school and home for the safety of our students," Mr Balfour says.