News
Avondale College students rank among world's best – again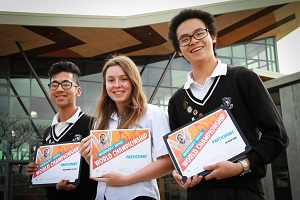 Three Avondale College students have beaten more than half a million competitors from around the globe to place in the top 10 in the world finals of the Microsoft Office Specialist championships – for the second year in a row.
This year the international competition attracted more than 600,000 competitors from 145 countries, including many from universities and other tertiary providers. Only 145 of the world's best made it to the finals in Dallas in August – and following the New Zealand final, (in which Avondale students won 11 of the top 12 places) six of these international competitors were from Avondale College.
When the final results were announced last week, three Avondale students were once again named in the top 10 of their various categories. Ellen Greenly (18) came ninth in Microsoft Word 2010; Azizul Islam (16) placed ninth in PowerPoint 210; and Di Kun Ong (16), ninth in PowerPoint 2013.
What is particularly significant is that, unlike many of their competitors who spend many months of intense preparation in the lead up to the event, these Kiwi world-beaters hadn't come through an official Microsoft course.
Instead, the Avondale students have been part of the college's ground-breaking Innovation Programme, where Microsoft applications are just one small part of the platforms they use every day to solve real-world challenges.
Teacher Paul McClean attributes the students' success to their ability to think holistically and apply intuitive and creative solutions to complex problems while under pressure.
"These astonishing kids are going from strength to strength," Mr McClean says. "And not by learning productivity tools or even other technologies, but by relishing the chance to think. This is having a heart-warming and profound effect on shaping their values, skills, and importantly, how they see the world."
Of course, making it to the top is never without its dramas: a change to quota rules meant that with only two weeks to go, the Avondale students found out they couldn't compete in their preferred application. Then a lightning strike to their plane delayed their flight to the US, leading to a mad dash to ensure connecting flights were boarded with only minutes to spare.
The students took it all in their stride, determined to make the most of every opportunity – whether that was performing well under the intense exam-room pressure; connecting with other students from around the world; or sprinting from location to location in a once-in-a-lifetime sightseeing spree.
"It's a good feeling to be placed in the top 10 in the world," year 12 student Azizul Islam says. "And now we really want to strive to do even better next year."