News
Australian teacher trainees learn about cyber safety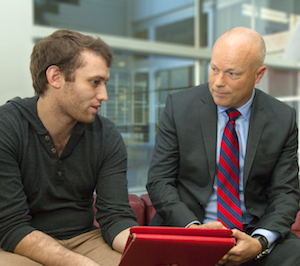 Teachers-in-training are being taught cyber-safety for themselves and their students by Australia's top children's e-Safety expert at QUT.
The Stepping Out conference, held this month at QUT, was designed for final year Faculty of Education students to best prepare themselves for their first job.
It was the first time the new Children's e-Safety Commissioner Alastair MacGibbon addressed pre-service teachers in Australia.
Mr MacGibbon is responsible for leading cyber safety education for children and for protecting them from cyberbullying.
Under new federal legislation – Enhancing Online Safety for Children Act 2015 – teachers are required to be aware about the process for reporting cyberbullying material.
"It's not part of the curriculum but teachers should be able to assist a child if they approach them about a cyberbullying incident, including reporting to the e-Safety Commissioner," Mr MacGibbon said.
"Schools can respond to students who are bullying others by using mediation methodologies; however, education and prevention help address cyberbullying before it occurs."
Cyber safety trainer Greg Gebhart said teachers needed to help themselves by protecting their own digital reputation.
"Students are ahead of the game and want to be in places where adults are not," he said.
"Some children are also searching online for information about their teachers and their partners."
He also urged teachers to use a journal of web searchers used in the classroom.
Mr Gebhart also raised awareness about decoy apps such as a secret calculator that can hide private photos inaccessible to others who don't have the four-digit pin number.
Fourth-year secondary education student Jarred Adams said he felt it was important to develop media literacy skills.
"It'll be my role to stay on top of tech in a meaningful way and look out for the wellbeing of students," he said.
QUT's Dr Rebecca Spooner-Lane, from the faculty of Education School of Cultural and Professional Learning, co-ordinated the conference.
She said ensuring new teachers could thrive during the challenging transition from university to classroom and knowing the pros and cons of cyber safety for themselves and their students was a key priority for QUT.
Dr Spooner-Lane said without mentoring support, many beginning teachers struggled along and failed to learn the nuances of effective teaching.
"Many leave the profession early in their careers with estimates anywhere from 30 to 50 per cent of teachers quitting within five years," she said.
It is anticipated there will be 3000 new mentors for teachers by the end of 2016.