News
Sporting success largely depends on good surfaces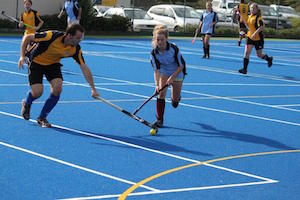 New Zealand has a sporting record we can be justly proud of, covering a wide range of activities that not only help keep us fit and healthy but can also provide years of enjoyment long after school days are over.
Sporting success can also have a big financial payoff for our country in general. It is our top sportspeople who, more than any of us, carry New Zealand's name out into the wider world and help lure tourists here in increasing droves.
Our tourism industry aims to achieve international earnings worth $41 billion by 2025. When you consider that the ICC World Cricket Cup this year was predicted to be followed by about one billion people, the FIFA Under-20 World Cup is now underway and the pulling power of the All Blacks is internationally recognised, these three sports alone will have a massive payoff in terms of tourist dollars.
Lydia Ko might not have honed her golf on a school playing surface but school sports in general may well have kindled her desire to make golf her career.
While it may be less spectacular, the health benefits of lifelong sporting activities are still gaining recognition. Obesity is growing rapidly throughout the Western world and associated problems, such as diabetes and heart disease, are predicted to bring crippling costs to New Zealand's health system in the years ahead. Those who developed a love of sporting activities in their school days are considerably less likely to be part of those statistics.
Weather drawbacks
While we have a physical environment that encourages outdoor activities in general, and a prosperity level that allows most to pursue some leisure activities, the weather is a different story. While the summers may be very dry, they can also be short, and all too soon our school sports fields become greasy, as well as grassy. Outside sports become less attractive, slips and falls bring increased injury hazards, while in winter, some sports often have to be cancelled several weeks in a row.
More than in many countries, New Zealand schools have to find an alternative to grass if their outdoors sporting programmes are not to be severely disrupted. The late start and frequent interruption of the cricket season is perhaps the most annoying example.
While the ubiquitous asphalt still provides a solid footing in many schools for some activities, it retains pools of water, punishes slips and falls severely, is really unsuitable for sports such as tennis, and hardly provides an aesthetically pleasing experience.
Thankfully, the development of synthetic grass sporting surfaces more than three decades ago has greatly alleviated the problem and New Zealand is a major beneficiary. As knowledge and techniques of manufacturing these surfaces has grown, they have become very sophisticated – able to provide a wide variety of textures, bounces and speeds.
Apart from their serviceability, these surfaces provide a wide range of brilliant colours that are pleasing to the eye, making the sporting experience much more enjoyable and helping persuade some of the less enthusiastic students to at least give it a go.
And with the shock-insulating properties of such surfaces now an essential part of their make-up, immediate injuries from falls are likely to be less severe, while the long-term toll on knees and other joints will certainly be reduced.
New Zealand schools are well served by companies that can offer them a professional service. Auckland-based Tiger Turf is a well-known, locally based manufacturer of all-weather surfaces for schools.
"Tiger pioneered the first all-weather multi-use courts for schools in 1989 – St Cuthbert's College was the first," the company's business development manager – schools, Adam Cherrie says.
He says there are many reasons why a school might consider synthetic sports fields or multi-sports surfaces over the traditional natural grass and asphalt playgrounds.
"Cracked, puddled and closed school grounds, unsafe and unforgiving courts and muddy grass pitches are a thing of the past with synthetic turf.
"Synthetic playgrounds transform school campuses, lift participation and skill levels, significantly reduce cancellations and maintenance (in both playgrounds and classrooms), and provide a more consistent playing surface, meaning fewer injuries," Mr Cherrie says.
"Synthetic sports surfaces have come a long way since the first grass was laid over old asphalt bases. The technology is continually improving and many surfaces are now accredited by international sporting bodies.
"For instance, football can now be played on advanced artificial grass turfs, which have been approved by the governing body, FIFA, for all match levels below World Cup Finals. But the real revolution has been to transform the dust bowls and mud pits where generations of children learned their football skills into high performance, heavily used sports arenas."
He says different systems of synthetic sport turfs are available to schools, depending on their sports curriculum and needs. It is important then, that the most appropriate system is selected for a school's requirements.
Relaxation areas
Mr Cherrie points out that it is not just for sports that synthetic sports surfaces bring advantages to schools.
"As classrooms and other buildings encroach on what was once a school's green spaces, it becomes harder for schools to provide welcoming and relaxing areas for students to chill out in. Synthetic landscape grass is so realistic these days that we have even heard stories of grounds people trying to mow it.
"Incorporating synthetic grass areas within a school's campus is a growing trend, allowing schools to provide more appealing spaces while reducing costs spent on maintaining these areas.
"Some schools have found that even previously unused and unpopular areas have been transformed into popular zones with the addition of a synthetic grass surface, enhancing the area while harmonising with the natural environment around the campus," Mr Cherrie says.
And there are also advantages when it comes to playgrounds:
It's well known that playground games help keep kids active as well as providing learning opportunities. With Tiger Turf's colourful play surfaces schools can create fantastic outdoor play areas where children can have fun and adventures while they learn.
"Synthetic grass play surfaces are a safe, soft, durable and inviting option in schools. These colourful playground turfs are useable all year round, require virtually no maintenance and remain colourful and inviting for many years."