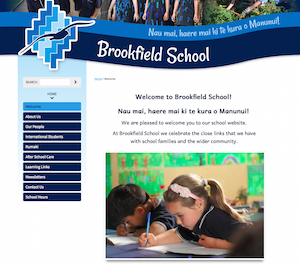 In today's learning environment the internet has become virtually indispensable – a tool that literally opens up the world for our students, offering an unlimited source of information on any topic through millions of websites.
At the same time, the internet enables schools to put their own information out there, on their own unique website. Accessible to anyone with an internet connection, a school's website gives it the opportunity to share its culture, philosophy and way of operating.
It is a platform for displaying school projects and activities, a forum for teachers, students and parents to share information among themselves and with the community, and a marketing opportunity to attract potential students.
To make a good initial impression on users and to keep them coming back, a school website needs to be well designed, easy to navigate, engaging for the user through interactive content, and be regularly updated. Meeting these criteria usually involves calling in the experts.
Spike@School was established 10 years ago for the express purpose of helping schools set up their websites and founder Brendon Muir says for them, the key factor is to build every website from scratch.
"When a school signs up, they work with the designer to create their website template according to how they want it to look.
"While the basic content, such as the school profile, newsletters and blogs, is usually the same, and they all include the easy to navigate index bar on the left, the designs are all different and unique to the individual schools."
There are also 26 modules available, which allow them to add content for different groups in the school, set up newsletters, post school notices, post images, create blogs. Staff-only and parent-only areas accessible by password can also be set up.
Another important feature of Spike@school are the Learning Caves and ePortfolio areas. As Spike@School's representative Nigel Wilson explains, by using these, teachers can create portfolios of resources for 24/7 access. Students can create portfolios of their work and share the content with their parents, and experts on various topics can have online conversations with teachers and students.
"Spike@School is accessible on all digital platforms and devices and the way the template is set up, means it is easy for all users to become familiar with," Mr Wilson says.
Both he and Mr Muir emphasise the importance of having more than one person within the school knowing how to administer the website.
"That means, if one person leaves, many others are still able to continue looking after it," Mr Muir says.
Signing up to a website platform like Spike@School, rather than using free, open source software from the internet also helps schools avoid potential hacking through failure to maintain that software, Mr Muir says.
Mobile apps is another digital platform now available specifically for New Zealand schools, and for apps developer Snapp Mobile, the impetus to start developing mobile apps for schools actually came from a school.
"Lindisfarne College in Hawkes Bay approached us because they wanted an app that would help them communicate with students and parents," company director Joshua Woodham says.
"We thought it was an amazing idea, and since building the app for that school, we have gone on to provide apps for 100 schools in New Zealand. We design and develop customised applications for each individual school, incorporating their branding and logo, so the app for each specific school can be identified and downloaded."
A range of modules can be added to the app, including the Alert module, which allows users to subscribe to an alert group and receive relevant messages. A sports team alert, for example, means match postponements, practice time changes and so on can be relayed through the app. A new newsletter alert has also been added.
The app enables schools to send out notifications such as mufti day dates, or postponements of school events, all of which means less time on the phone for the receptionist, Mr Woodham says.
"An app is a great way of getting information out as quickly and cost-effectively as possible. From the feedback we've had, 98 per cent of people read their alerts within 30 seconds of receiving them."
For parents and caregivers, the app can be used to direct dial the school to advise them if a child will be absent.
"The app can also be integrated with different forms of software, for example the school's SMS. We have a strong integration with the KAMAR SMS, which many high schools use. Attendance records and NCEA results can all be included. Primary schools can integrate with a Google website calendar so all school events can be listed on the app."
There is a one-off cost to have the app developed, which is based on what features the school needs. These will vary according to the size and type of school. Once it is developed there is a small monthly fee for maintenance.
Spike@School and Snapp Mobile are now joining forces in some instances.
"We both had started to realise we had several clients in common," Joshua Woodham says.
"Brendon got in touch with me and we quickly realised the benefits of working together. Now, several of Spike's website features can be integrated seamlessly into our Apps, which cuts back on a lot of the duplication of effort. For example, loading newsletters and calendar events etc.
"We are continually looking at ways to increase the integration between the two products to deliver more time savings to our mutual customers."