News
School children to be offered 'taster sessions' at sports festival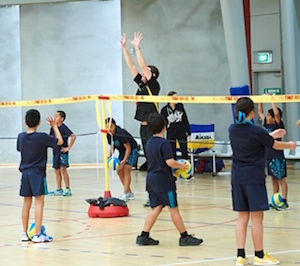 Nearly 400 school children will be given the opportunity to try a variety of sports at the ASB Sports Centre Schools Festival, on Wednesday, July 1.
Organised annually by Sport Wellington, Wellington City Council and the ASB Sports Centre, the event aims to give primary school-aged children a chance to 'have-a-go' at an assortment of sports.
Children hailing from 13 local schools will rotate around five different sports throughout the day. Thirteen different sports are on offer ranging from cricket and basketball, right through to the less traditional, such as korfball and ultimate frisbee.
The Wellington City schools-focused ASB Sports Centre Schools Festival is an accompanying event to Sport Wellington's annual Westpac Stadium Sports Festival, which was first held in 2004 and incorporates schools from across the greater Wellington region.
Since its conception, over 6000 children from 141 different primary schools within the region have taken part in the Stadium Sports Festival with scores of primary schools applying to take part each year. Due to this overwhelming interest, Sport Wellington has been partnering with local councils to assist in running smaller sports festivals in their area, leading to the development of the ASB Sports Centre Schools Festival.
"This is the third year Sport Wellington, in partnership with Wellington City Council and the ASB Sports Centre, are running what has now become an annual event for Wellington schools," Sport Wellington Community Sport Advisor, Georgina Duindam, says.
The sports festival model allows sports providers the opportunity to showcase and promote their sport to children, in the hope that they might discover a sport they would like to continue to participate in either through school, KiwiSport-funded programmes or local sports clubs. It also allows the sport provider a pathway into the school, while allowing teachers to view a sport session that they might be able to replicate in their own classes.
"Local sports really value the opportunity to showcase their sport at a grass roots level, while the schools and their students enjoy a day out that allows their students to get active and discover some of the local sports on offer," Ms Duindam says.
Schools are paired with sports based on the sports ability to provide programmes to the school, or have a club accessible in their area.
Sport Wellington delivers the event with the aim to increase the number of school-aged children playing sport and improve their access to participation opportunities. In doing so, they also aim to support sports organisations in creating links with schools, and increase both sports organisations and the schools capabilities of delivering meaningful 'taster sessions' in a variety of sports.
Photo courtesy of Jun Tanlayco Sports Images