News
More than one pathway to success, students told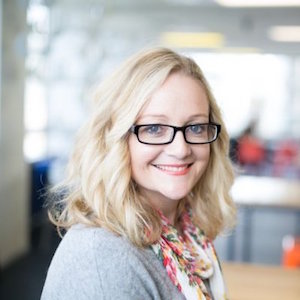 As part of the 'Earn and Learn' programme run by Workchoice Trust, Trade Me Jobs marketing manager, Fran Bellingham, has been talking to students about her career pathway into one of New Zealand's most successful companies.
"It's great to be able to let students know there isn't just one pathway to success. Some students learn differently – like me, the traditional education system doesn't suit everyone. I needed to be hands-on and found success learning on the job. My career path started in radio after a short course straight from school."
Workchoice Trust is a charity that focuses on youth employment by bridging the gap between schools and businesses. The programme tells students about opportunities in apprenticeships, cadetships and trades, and explains how they can successfully prepare for a variety of entry-level roles.
Ms Bellingham recently opened the eyes of 20 students from St Catherine's College and Hutt Valley High School to the opportunities out there. One of the accompanying school teachers said the students were impressed by the variety of backgrounds that Trade Me employees came from.
Trade Me will also be hosting teachers as part of Workchoice Teachers' Day, which gives educators a fresh look at the world of work. It emphasises the need for better industry knowledge and understanding to be incorporated into the classroom.
Workchoice CEO Amanda Wheeler says while there are some exceptions, most high schools have a strong focus on academic results rather than career and employability knowledge or transition experiences and connection with the world of work. The result can be unprepared future workers.
"Many young people have no idea how to market themselves successfully and little understanding of the recruitment process. They don't know about skills shortages, employability skills and may not realise what one job can lead them into," Ms Wheeler says.
Ms Bellingham agrees: "Today's job market is dynamic. There are many jobs now that simply didn't exist 10 years ago. Many organisations have a strong focus on hiring people who fit the business' culture and are passionate about what they do – both at work and outside it. It's not always about what qualification you've got but your attitude and experience that is key."
The Ministry of Education's group manager for Youth Guarantee Arthur Graves, says of these initiatives: "This sort of collaboration between business and education will ensure that school leavers are highly skilled and 'work ready'.
"Relevancy in education is crucial, and can only be achieved when industry are actively involved. We are encouraging businesses and schools to source similar partnerships around the country.
Learning happens both inside and outside of the traditional classroom."