News
KidsCan Mufti Day is coming up!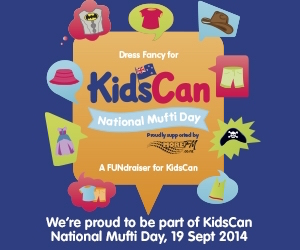 KidsCan National Mufti Day is back, for the third year in a row, and plans to raise much-needed funds for Kiwi kids living in poverty, who are less fortunate than others.
On Friday, June 26, schools and businesses around the country will be wearing mufti or dressing up in fancy dress – all in the aid of KidsCan.
"As of today (Monday, June 8), we have over 150 schools and businesses participating in KidsCan National Mufti Day with a variety of dress-up themes.
"It's fantastic to have such tremendous support from organisations all over New Zealand, which will enable KidsCan to do even more through the programmes we provide to our partner schools," KidsCan GM Marketing & fundraising Jan Clark says.
It's not too late to register by visiting www.kidscan.org.nz/muftiday