News
Former Kitchen Showdown winner follows his dream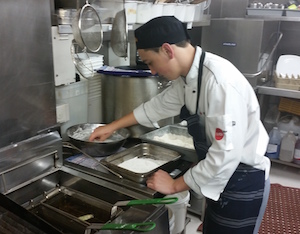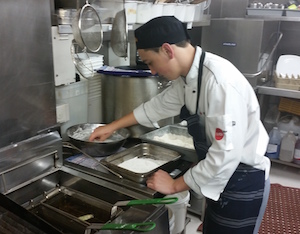 Six years ago the nationwide Maggi-sponsored kids' cooking competition sparked James Matamua's passion in cooking, leading him to chase his dream to be a chef.
Seventeen-year-old James entered the MAGGI Kitchen Showdown with three fellow Fergusson Intermediate schoolmates. They had no idea that later that year, they would be crowned the national winning team.
As entries for this year's competition draw to a close on FridayJuly 3, 2015, James would like to encourage young Kiwis to enter and give it a go.
"Competing in the MAGGI Kitchen Showdown was one of the best experiences of my life. You have so much fun with your teammates, make awesome friends and it's a great way to learn more about cooking," he says.
James is now working as a kitchen hand in Wellington's esteemed Pravda Cafe, thanks to his mentor Simon Gault, while studying hospitality at WelTec, and he has high hopes for his future.
"The competition helped me realise my dream of becoming a Michelin-star chef one day. I would love to open my own restaurants around the world – particularly in New York.
"My fellow Maggi-nificent Ferggies teammates and I still hang out together and watch the old footage from the competition, which is hilarious. We were under pressure during the national final because we were running out of time, so we look quite stressed!"
For budding young chefs out there who are thinking of a career in the kitchen, James has some handy advice to share.
"Don't rush! Take your time to make sure you're following the recipe correctly, otherwise that's when mistakes happen. Always be willing to clean, because it's the one thing you're guaranteed to do in the job. And sharpen up your knife skills – every chef needs them."
And what is James's favourite dish to cook?
"Our winning dish from the MAGGI Kitchen Showdown of course! A deconstructed chicken, bacon and mushroom lasagne. Delicious."
To register your team or for more information about this year's MAGGI Kitchen Showdown, visit www.maggi.co.nz/kitchen-showdown.