News
Free vision testing offered in low decile schools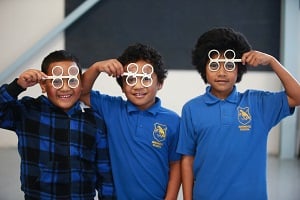 Global non-profit organisation OneSight is again giving the gift of improved vision this year, providing eye tests and eye screenings for children around the country.
Launched in New Zealand in July 2014, OneSight screens children in low decile participating schools. This includes assessing distance, colour vision, depth perception and binocular vision.
Any child requiring further review after this process is referred to an OPSM store with a OneSight vision voucher, covering the cost of a full comprehensive consultation with an optometrist and a free pair of glasses if required.
Robyn Weinberg, director community, OneSight says relationships are fundamental to the programme's success.
"The charity's objective is to make a difference to the learning outcomes of children," Ms Weinberg says.
"Our experience in New Zealand schools has revealed between 35 per cent and 50 per cent of children screened have gone on to need further review. As a result, our partnerships with schools and teachers are incredibly valuable to the overall successful outcomes for these children.
"Eighty per cent of learning happens through the visual system and many children are visual in their learning style so providing clear and comfortable sight helps them to learn at their maximum potential."
OneSight is the charity partner of OPSM, a retail brand of Luxottica, one of the largest global manufacturers and distributors of eye ware.
Luxottica is a client of Debitsuccess, which is part of the Transaction Services Group (TSG), a leading global payment solutions provider with a presence in Australasia, the United Kingdom and the United States.