News
Field of Remembrance established at Wellington school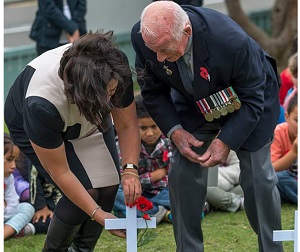 Students at Titahi Bay Wellington's Ngāti Toa School established a Field of Remembrance yesterday as part of a nationwide project to highlight the service and sacrifice of young New Zealanders during World War One.
Education Minister Hekia Parata was on hand to help and said she was delighted to participate in the exercise.
"World War One was a defining point in New Zealand history. It is important that today's generation learn of the sacrifice of their forebears and the part the war played in establishing New Zealanders' sense of national identity."
The Fields of Remembrance project has been made possible by the work and generosity of the Fields of Remembrance Trust, established in 2012 to honour the men and women who served and died during World War One, and sponsors who've contributed materials, time and resources to produce over 80,000 white crosses and 12,500 posters for schools.
Participating schools have each received 30 white crosses and five display posters. The crosses represent the 18,200 New Zealand men and women who died in the war. More than 103,000 New Zealanders served overseas and more than 41,000 were wounded.
The crosses bear the names of local men, nurses, Victoria Cross recipients, the youngest New Zealander who died (aged 17) and an All Black captain. One has the words "Known Unto God" to represent the Unknown Soldier.
"I grew up going to dawn ceremonies on Anzac Day in Ruatoria and reading the names of heroes and heroines on our war memorials and in our marae," Ms Parata said. "So I'm pleased to see that young New Zealanders also have the opportunity to learn about this important and tragic part of our history."