News
Welcome event kicks off new international student programme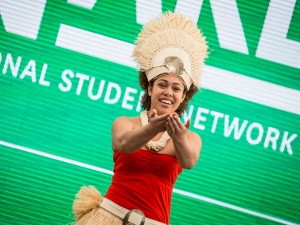 More than 2000 international students experienced a powhiri and got to interact with some of the city's sports stars at a special Auckland welcome last Thursday.
The day-long International Student Welcome event at The Cloud on Queens Wharf launched a pilot programme called INAKL, which is focused on improving the experience of international students while studying in Auckland, and creating a stronger engagement between international students and the region.
Study Auckland, council's specialist industry growth team within Auckland Tourism, Events and Economic Development (ATEED), developed the pilot programme.
ATEED chief executive, Brett O'Riley, says international education is a priority target sector for Auckland, and highly competitive globally. In the most recent Education New Zealand figures (August 2014) the industry was estimated to be worth about $1.6 billion a year to Auckland's regional economy.
"Aside from the direct spending on fees, accommodation and living costs, students are often visited by family and friends, and they take part in tourist experiences. The students can be great ambassadors for Auckland – particularly with global access to social media," Mr O'Riley says.
"Talented students are also potentially a major solution for Auckland's current shortage of skilled workers. ATEED is working with our partners to ensure the right pathways are put in place to keep talented students in the region after their studies."
Auckland hosts about 60 per cent of the international students in New Zealand. The number grew 15 per cent last year to reach about 60,000.
The students who attended the welcome event take courses at a diverse range of providers, from primary school to tertiary and private training establishments. They originate from numerous countries including China, India, South Korea, Pakistan, Germany and the US.
Aside from the welcome event, the INAKL programme will incorporate a mixture of targeted activities and communication strategies, including: digital communications, an International Student Ambassador project, and ongoing events, activities and initiatives.
A key part of INAKL will be to explain to students the pathways to further education, employment and business opportunities in Auckland.
Targeted Digital Strategy
ATEED partners with Auckland businesses and organisations, regional partners, stakeholders and supporting agencies for this programme.
Via targeted website, email and social media channels, INAKL will update students of activities, events and exclusive international student offers from partners.
International Student Ambassador project
Four international students will be invited to participate in a series of event and attraction-based activities as guests of Auckland. The group will be selected by recommendation from their education providers. The chosen ambassadors will be required to blog about their experiences in Auckland.
Ongoing events, activities and initiatives
A programme is to be developed that will include a mixture of tourism experiences, group attendance at sports matches, information evenings, group trips, and other services.