News
Teachers to visit Japan on technology tour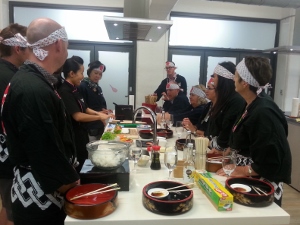 Eight New Zealand science and digital technology teachers are set to bring knowledge of Japan's cutting-edge technology into New Zealand classrooms after participating in a tour to that country.
Organised by the Asia New Zealand Foundation, the tour will see the teachers heading to Japan on March 21 for a week-long forum designed to deepen their knowledge of Japan's world-leading telecommunications, robotics, aerospace and automobile industries. They will also learn more about Japan's culture and history and its relationship with New Zealand.
Asia New Zealand Foundation schools co-ordinator Yasheeka Bertram says that after the trip, each teacher will create a unit of work that relates to their subject area and be encouraged to share these with others. For instance, these might include digital technology students creating a new mobile app or game, or a physics unit on how shinkansen (fast trains) work using magnetic levitation.
The participating teachers are: Diane Atkins, Linwood College, Christchurch (New Zealand's first science and technology-focused STEM school); Fenella Colyer, Manurewa High School, Auckland (winner of the Prime Minister's Science Teacher Prize in 2013); Shirley Dudli, Cambridge High School, Cambridge; Sunah Kim, Kirkwood Intermediate School, Christchurch; Paul O'Halloran, Saint Joseph's Catholic Primary, Upper Hutt; Philip Pickering, Trident High School, Whakatane; Hamish Robb, Wakatipu High School, Queenstown; John Watson, Burnside High School, Christchurch.
While in Japan, they will be briefed by telecommunications companies NTT Docomo and Ericsson and will visit Tokyo Tech High School of Science and Technology, museums and Tsukuba Science City. They will also meet with Education New Zealand, to learn more about Japan's education system, and with New Zealand Trade and Enterprise.
The teachers will be accompanied by Yasheeka Bertram and Jenny Chu, a member of the Asia New Zealand Foundation's Leadership Network and a civil engineer based in Auckland.
Asia New Zealand Foundation director, education Jeff Johnstone says the tour is one of the professional development opportunities offered to New Zealand teachers. The foundation also runs tours to China, Indonesia and Singapore.
"These tours give teachers a new perspective on the importance of Asia to New Zealand. They can draw on their experiences in their teaching, and include more Asia content to better prepare young New Zealanders for a future with Asia."