News
Success at national champs for House of Science team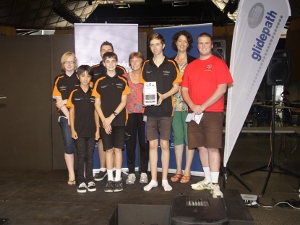 The National VEX Robotics National Championships were held at the Vodafone Event centre in Manukau last weekend, with over 70 teams from around the country competing for national titles and to earn coveted qualification spots for the World Championships to be held in Kentucky in April.
Tauranga's House of Science Robotics team came away with no fewer than five trophies in their first year of existence.
Dean Strydom and Jesse Gommans from Team 8757 won the BUILD award, as well as being Division Finalists and Runners up in Robot Skills. House of Science also won the Community Award in recognition of its work in making VEX and VEX IQ robotics available to schools and students in Western Bay of Plenty through classroom kits, holiday programmes, and a robotics club. Shane de Rijk won the Mentor of the Year award, for his valuable support to the House of Science team over the last season.
Having qualified for the Worlds, the robotics team is now needing to fundraise to enable them to attend this event, which will see over 800 teams from around the globe compete for the World title.
The VEX Robotics Design System offers students an exciting platform for learning about areas rich with career opportunities spanning science, technology, engineering and math (STEM). Beyond science and engineering principles, a VEX Robotics project encourages teamwork, leadership and problem solving among groups. The VEX program in New Zealand is supported by companies including Fisher & Paykel Healthcare, Glidepath and SMC.
The House of Science Tauranga is a charitable trust which exists to connect and resource the local science community to enrich science education and increase the number and quality of students engaged in secondary school science.