News
Science Street Fair to offer hands-on experience for families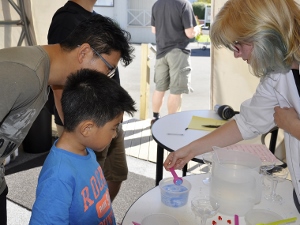 Children and their parents are invited to interact with leading Kiwi scientists and learn more about the science behind super bugs, creatures that glow in the dark, lasers, forensics and much more at MOTAT.
The streets of MOTAT will become a hive of scientific activity on Sunday, March 29 from 10am to 4pm when the museum hosts its second Science Street Fair in partnership with the University of Auckland, the NZ Association of Scientists and other experts in this field. This family-focused event offers visitors a hands-on learning experience and the unique opportunity to meet local scientists who are expanding scientific boundaries.
"The Science Street Fair showcases the museum's commitment to focus on Kiwi technology and ingenuity in a creative way to educate and inspire visitors so that they go on to become the innovators of tomorrow," MOTAT CEO Michael Frawley said.
He described the fair as "a wide variety of exhibits where kids will be encouraged to interact with the experiments and inventions while asking questions of the experts on hand".
"We want them to become excited about science and its possibilities."
Well-known for her distinctive pink hair and enthusiasm for super bugs and bioluminescence (or creatures which glow in the dark!), Dr Siouxsi Wiles will be at the fair sharing her passion for microbiology and creatures such as glow worms and fireflies. Recipient of the Prime Minister's Science Media Communication Prize in 2013, Dr Wiles is an expert in dispelling the myths that science is irrelevant, boring or too hard to understand. Visitors can have their picture taken by the light of glowing bacteria in a photo booth with a difference as well as draw their own masterpiece using nothing more than a cotton swab, a solution of harmless glowing bacteria and a petri dish. It will take the bacteria a day to grow before the art becomes visible, but photos will be uploaded for the budding artists to share with their friends online. Suitable for ages five to 99.
Photon Factory, the state-of-the-art research facility specialising in ultra-fast lasers based at the University of Auckland will be at the Science Street Fair explaining the importance of their work and inspiring the next generation of young scientists. Visitors can expect to be fascinated by glow-in-the-dark slimes to learn what molecules, like the ones that make leaves green or blood red, may do after absorbing light.
2015 is the International Year of Light and in celebration, the team will host an array of activities and demonstrations involving lasers – including a laser maze.
Visitors to the Science Street Fair will also have the opportunity to see MOTAT's Differential Analyser in action. Built partly from Meccano, this fascinating mechanical analogue computer is designed to solve equations and was one of the first computers in operation back in 1935.
"We are thrilled to be hosting such high-calibre scientists at MOTAT. They are all passionate about their subject and have fantastic knowledge to share with our visitors," Mr Frawley said.
Along with several other scientists from Massey, Canterbury and Auckland universities, the following organisations will also be in attendance: Early Learning Lab, Zombiebots, MindKits, DiamondAge and the Association for Women in the Sciences.
Date: Sunday, March 29, 2015 Time: 10am – 4 pm
MOTAT: 805 Great North Road, Western Springs, Auckland
www.motat.org.nz

Normal MOTAT entry fees apply.