News
More schools join Books in Homes thanks to fundraising efforts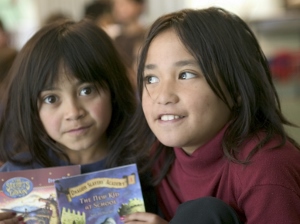 Following a three-week fundraising campaign, Warehouse Stationery stores and their customers have raised $21,776 for literacy charity Duffy Books in Homes.
From January 19 to February 8, team members from 14 stores raised money through a campaign asking customers at the checkout whether they would like to add a dollar to their total purchase.
This comes on the back of $10,039 raised in July last year.
Duffy Books in Homes general manager, Linda Vagana, is thrilled with the results.
"With these results combined we're able to provide at least five free books to more than 1500 students this year. This latest effort went above and beyond our expectations."
During the three weeks commencing March 16, role models organised by Duffy Books in Homes will join the Warehouse Stationery team at the schools involved to talk about reading and give away more than 3000 books.
Warehouse Stationery regional manager of Region 2 stores, Kyle Jenkins, is excited about this fundraising campaign.
"We're amazed by the effort put in by our team and the support shown by our customers in beating our goal by so much. We've had to work with Duffy Books in Homes to choose six additional schools to support this year – a great problem to have! "
Stores involved in the fundraising campaign include Chartwell ($1611), Fraser Cove ($982), Gisborne ($2152), Hamilton ($3085), Hastings ($1011), Matamata ($336), Mt Maunganui ($847), Napier ($883), Rotorua ($1957), Taupo ($1831), Tauranga ($1602), Te Awamutu ($1155), The Base ($2246) and Whakatane ($2078)
Since it was founded in 1994 the Duffy Books in Homes programme has grown to encompass 508 schools, around 100,000 students and more than 200 sponsors in 2015. In July last year the programme gave away its 10-millionth book and celebrated 20 years of operation.