News
Magic and humour combine in anti-bullying message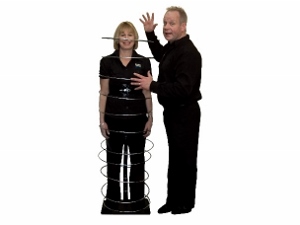 One of New Zealand's top performers and most popular magicians, Elgregoe, is using a blend of magic and humour to deliver important social messages to Kiwi kids about anti-bullying in schools. Supporting the 2015 school curriculum, the 'You've Got The Power' school show draws attention to what bullying can look like and teaches kids about how to treat others.
Elgregoe has now performed to over 800,000 students across New Zealand and this week he is visiting schools in the Dunedin region to reinforce his anti–bullying message.
Through the charisma of magic, Elgregoe, otherwise known as Greg Britt, has been delivering his show for more than 17 years. He and his show assistant and wife Sue, use tricks, puppets, ventriloquism, music, songs and a variety of props (including live birds), to portray his anti-bullying messages.
The 2015 'You've Got The Power' show, supported by Trustpower, looks at how we can all be part of the solution to bullying and is themed around 'what you can be'. Through the show Elgregoe teaches key values like respect, resilience, caring, honesty and the importance of contributing. Special guest, Stinger the bee and one lucky audience volunteer will also help teach students they have the power to make a difference.
The programme was prompted by a school principal 15 years ago when he said, "If you are a real magician then let's see if you can make bullying disappear."
This challenge led Elgregoe to look at the issues of bullying and create a unique show for schools that addressed these issues with the help of magic. Now with Trustpower's support, who came on board in 2005 after watching him in action, this has grown into a nationwide school presentation, endorsed by hundreds of schools and reaching thousands of New Zealand school children annually.
Trustpower community relations co-ordinator Suzi Luff says Elgregoe has a unique ability to deliver an important message in an upbeat way.
"Trustpower's always been impressed with Elgregoe's passion and ability to engage with children. We are especially proud to support this anti-bullying programme as it really connects with students and empowers them to make the right choices. Feedback from schools is that his message is getting through and making a real difference," Mrs Luff says.
Elgregoe says this year he wants the students to have fun and be fully engaged in the show while learning important life skills that do make a difference.
"I am one lucky guy. I love performing my tricks, doing ventriloquism, working with live parrots and travelling; and I get to do all this for a job while also delivering a valuable message for all students," he says.
In 2009 the Queen appointed Elgregoe a Member of the NZ Order of Merit for services to education. In the same year he also received The Variety Artists Club of New Zealand's Top Children's Entertainer Award and The Grand Master of Magic Award, which is one of the highest forms of recognition a New Zealand magician can receive.