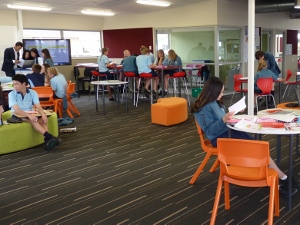 In the latter part of 2014, Northcross Intermediate in Browns Bay on Auckland's North Shore became part of the new Modern Learning Environment (MLE) with the opening of its purpose-built MLE technology and teaching block.
The block incorporates seven teaching spaces upstairs and seven specialist areas on the ground floor: food and nutrition, media, hard materials, graphics and design, biotechnology, science, and structures and mechanisms.
The process of introducing MLE had started back in 2010 with concept drawings, principal Jonathon Tredray says, with teachers and the board of trustees being involved in the discussions on how the spaces would look and function right from the start. The school's property manager Andrew Bolland initiated discussions with furniture supplier Distinction. During these discussions teachers put forward their ideas on how they wanted the furniture items to work, requesting subtle variations to some standard items to meet their specific requirements and students' preferences.
"With seven specialist areas within our new MLE, ensuring these learning spaces function at a high level is a priority for us," Mr Tredray says.
As Murray McLeod from Distinction points out, the range of options in furniture styles goes hand in hand with the MLE concept.
"Not every child works to their fullest potential seated at a traditional desk. It's about giving the students choices on how they learn best, and when you stand back and look at it, it actually works."
For example, Northcross students who prefer working at high tables have been provided with gas-lift adjustable chairs so students of different ages and heights can use them.
Mr Tredray is delighted with how MLE has been incorporated into the Northcross Intermediate curriculum.
"This 21st-century way of teaching and learning involves working collaboratively, having discussions and problem solving. For us, with our focus on technology, we've taken the MLE philosophy and put it into the technology area. It's not a completely separate curriculum, it ties in with classroom learning and activities."
In the food and nutrition area, for example, the students learn about nutrition and healthy eating. A key part of that is the garden, where a variety of vegetables, herbs and spices are grown and harvested. Five teachers were involved in establishing the garden, a project which ran over three terms, Mr Tredray says.
"The garden includes greenhouses and sheds where the students extract elements from the plants to make products such as soaps, hair gels, ginger beer and juices. What the students learn there relates to and reinforces what's happening with their teaching and learning in the classroom."
The media studies area focuses on visual media, with the students learning how to make movies. The design and build area teaches the students about how hard materials are used in production of equipment, and they learn how things like windmills and hydro dams work.
"This year we are increasing our numbers of 3D printers and in terms one and two the students will be designing water filters and wind turbines," Mr Tredray says.
Furniture for phase two of the project is currently being manufactured.
"The head of department for science wanted the lab benches to be slightly wider than the standard to accommodate the work the students will be doing," Mr McLeod says. "Cupboards for storing hard material tools are also being custom made according to that teacher's requirements. It's all about adaptability and listening to the teacher."
Four of the proposed seven teaching MLE spaces at Northcross Intermediate are operating upstairs in the new building, while the other seven technology spaces are downstairs. The upstairs areas are "exceptionally quiet", even though 120-plus students from the total roll of 1050 are based there, Mr Tredray says.
"The downstairs area is more challenging because of industrial noise, which can detract from teaching and learning. We are still investigating whether it is a problem, and if so how we can solve it with the teachers working collegially, or by making the rooms sound-proof."
Mr Tredray is impressed with how his teachers have moved into MLE, considering it is a completely different way of teaching.
"In truth, I was a bit apprehensive. Open-plan teaching in the '80s was common in New Zealand, but didn't fare too well, so they put the walls back up. It wasn't really researched properly and maybe was introduced on a whim."
The introduction of MLE at Northcross Intermediate has been more of a planned process backed by current research, he says, which has contributed to its success.
"Research has shown that working collectively, and providing break-out spaces and having specific areas for quiet teaching in small groups, and sound-proof areas where ideas can be presented, enhances both teaching and learning."
The calibre of the teachers is also an important factor, he notes, though he admits it can be a challenge for some teachers to change from the traditional teaching methods to the new pedagogy.
"To help the process, our teachers visited other MLE schools, and we also brought some of the new furniture into the rooms to see how it would work. Our teachers and staff have responded very well and are really making it work.
"MLE is really an extension of what we've been doing for a number of years at Northcross, but for which we needed the special rooms, the break-out spaces and the appropriate furniture.
"The Ministry of Education has been superb to work with in making the change to MLE. We enjoyed working with the Ministry's property manager. And in terms of the curriculum, there is a definite change of psyche at the Ministry. There is greater co-ordination and a vision for leadership. I can see that change and it certainly makes our job easier."
Mr Tredray has been in the teaching profession for 24 years, training in Wellington before starting his career in the rural sector. Contact with his sister's flatmates, who were teacher trainees, had made him realise how much he enjoyed talking to people and he was inspired to take up the profession himself. He has been principal at Northcross Intermediate for 11 years, and says he joined the school because of his passion for middle school education.
"Northcross Intermediate provided me with the next challenge in my career, especially around curriculum development etc. At intermediate level, having year 7 and 8 students provides an exciting challenge; it is a special age, with the students experiencing rapid growth both physically and emotionally.
"Puberty can be an emotional time for young people, it is a time when they are starting to question their parents and authority, developing their own abstract views on life.
"If we can help our students to define who they are through a challenging curriculum and explicit feedback they will go on to make positive contributions to our community."