Property
Dream learning environment at Amesbury School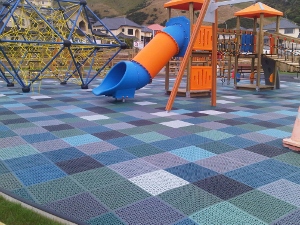 For staff and the 150 pupils at Amesbury School, the learning environment could be regarded as a dream come true.
Their school is the first state primary school to be built in Wellington for more than 25 years and reflects the great changes that have occurred in education in that time.
Amesbury School opened at the beginning of 2012 to meet the educational needs of the growing suburb. The only local Churton Park primary school at that time had became oversubscribed and could no longer keep up with demand.
Principal Lesley Murrihy is well aware of the advantages that come with teaching in a purpose-built 21s-century facility. Having cut her teeth on 21st-century learning in decile 1, Manunui School, Taumarunui, she was ready for the challenge of opening a new, purpose-built facility.
"We're very fortunate that our school is a flexible learning environment with strong indoor/outdoor flow, connecting the school buildings with the outdoor learning environment, thereby emphasising the important point that learning happens everywhere.
"We have a hall, library, large meeting room, teachers' workrooms, and parents' area with coffee- making facilities to support the five open-plan learning suites. Our grounds include a playground, two courts, a three-quarter-length soccer pitch, a wetlands area with bridge and viewing platform and a newly planted native tree area.
"We're considering developing other outdoor facilities. Currently the planning and fundraising for a second, more senior playground is underway. The hall has a half-size basketball court and hoop, and is marked out for two badminton courts," Dr Murrihy says. "The hall is used by the community for community activities outside of school hours. Churton Park has been a dormitory suburb for so long and it is exciting to see our school facilities bringing people together and assisting in the development of community. "Our modern environment enables staff to work flexibly to ensure all children's learning is engaging, meaningful, personalised, joyful and empowering."
Flexible learning
The school has been built initially with five suites of rooms with each suite being the equivalent space of two traditional classrooms. Each suite contains several spaces where a variety of learning activities can take place or it can be opened up into larger open spaces. The buildings are designed to ensure these reconfigurations of the spaces can occur very easily and naturally – providing a range of flexible learning spaces that allow teachers to meet a wide range of learning needs.
Amesbury School currently consists of two learning hubs and an admin block. The senior hub (Harakeke) comprises two suites and the junior hub (Koru) is made up of three suites. The administration block houses the library, parent area, reception area and hall.
Each hub (which has several spaces and a range of possible configurations) is furnished to accommodate learners in a variety of contexts across the space, utilising a range of furniture. There is a mix of more traditional table and chair furnishings as well as soft- furnished stools, ottomans, bean chairs and other soft seating to facilitate the different configurations of learning. The floor is also significantly used due to the water-conducted underfloor heating that runs throughout the school.
Bringing the whole project team together was a design and build consortium led by Maycroft Construction, creating the new school on a site that had previously been quite swampy, but used as a play area for children and a place to walk dogs by others.
The site presented several opportunities, which were included in the original master plan by McKenzie and Higham Architecture. The buildings are orientated in the north/south direction to allow sun into all spaces while forming a central sheltered courtyard. Their location allows for planting, extensive playing fields and playgrounds to the east of the site, within the south-facing basin.
All classroom groupings are able to access the outdoors to both the southern sports field and sunny northern sides of the buildings, on to spaces formed as outdoor learning courts encouraging teaching and learning to permeate outside.
Showing concern for the wider environment, in line with modern best practice, Amesbury School was built with a 5-Green Star rating, a comprehensive, national, voluntary environmental rating scheme that evaluates a building's environmental impact based on site selection, design, construction and maintenance. In line with this, Amesbury School has recently installed a four-kilowatt array of solar panels.
"The establishment board began with big ideas of a school which produced its own power, but the funding did not allow for this to happen. We are so grateful to Schoolgen (Genesis Energy and Wellington City council) for enabling us to at least partially fulfil this dream of the initial board," Dr Murrihy commented.
Maycroft Construction commercial manager Grant Gunn says it is the modern design of the school by McKenzie Higham Architects that made the project really stand out.
"Small wooden desks have been replaced by low tables and high swivel chairs and there are quiet areas complete with bean bags. Every child has access to a complete range of technology from Apple Mac computers and iPads to PCs, Android tablets, iPods and even large flat touch- screen TVs that show the timetable for the day and enable students to check in, thereby avoiding time wasted taking the roll," he explains.
With learning at Amesbury School becoming increasingly cloud-based for anywhere, anytime access, all students year 2 to 6 now have their own allocated Chromebook provided by the school as well as access to the above.
"This tool is assisting us towards the deep personalisation of learning for all students," Dr Murrihy says.
The project required close liaison with the Ministry of Education and Wellington City Council. The council partially funded the school hall build, which was expanded from the original concept to provide a community hall facility. "Building this school was a wonderful collaboration, with all partners committed to developing an environment which is built around the learner, rather than the learner having to fit the system or environment. We are so appreciative of all the efforts made by the whole consortium to provide us with the best possible modern learning environment for our students," she says.
Safe chessboard playground
Among the modern features is a Play Matta safety surfacing area, installed as an outdoor chess board, and a three-tone blue area of Play Matta that forms a transition area between indoor and outdoor space to provide the children with a safe, year-around playing surface. The surface protects children from critical height-related fall injury and is slip and fire resistant.
As the system is made from interlocking modular mats, it allows for the entire system to be lifted and re-laid on a new site if required. The product comes with a six-year warranty.
The Play Matta surface fits in well with the school's 'green' credentials as it is made from recycled materials – 100 per cent recycled PVC and rubber feedstock.
Matta Products Ltd was founded in 1992 to turn waste plastics and rubber into a range of safety surfacing for playgrounds and industrial applications. In turn, the company's products can be recycled at the end of their life.
The Play Matta tiles and the shock pads used in the Amesbury School project hold Recycled Plastic Products and Recycled Rubber Products licensing.
Environmental Choice New Zealand accreditation held by Matta Products Ltd was part of the reason the company's products were chosen for the Amesbury School project, says Pauline Harris, research and development manager for Matta Products Ltd.
Mrs Harris says that Play Matta is the most specified modular playground surfacing in New Zealand. Play Matta tiles and ramped edging, properly installed and maintained, also provide an even, stable surface accessible to disabled students, she says.
So, with so much going for it in modern pedagogy, design and materials, has Amesbury School lived up to its promise with pupils, staff and parents?
Principal Lesley Murrihy says: "Entering our fourth year, our school still looks wonderfully fresh and new. There is little that we would change if we started again. However, the building is really the easy part; the road to developing and implementing a modern, future-focused pedagogy across a whole school system is pioneering work and is more fraught with difficulty. There are no models. We have recently made some really big strides forward in our understanding of this. Our students already amaze us. I can only shake my head in wonder as I imagine what we will see in our students as we continue to implement our emerging thinking. Such an exciting journey!"