News
More than half NZ schools on N4L network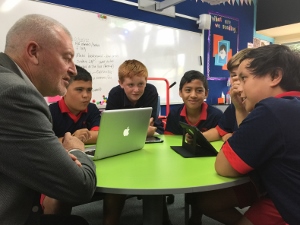 On Wednesday, February 4, N4L (Network for Learning) marked the halfway point of its Managed Network rollout, with more than 50 per cent of New Zealand schools starting the year equipped with N4L's fast and reliable internet services.
N4L CEO John Hanna and Associate Minister of Education Nikki Kaye visited South Auckland's Pukekohe Intermediate school to mark the occasion, as this was the school tipping the rollout past the halfway mark. More than 400,000 students and 28,000 teachers from nearly 1300 schools are now using the government-funded Managed Network for quick and reliable internet services, complete with uncapped data, web filtering and network security services.

N4L began connecting schools a little over a year ago, and Mr Hanna is pleased the company's progress to date:
"We are very proud to be helping bring about transformative change in education by ensuring every child attending school can get access to reliable internet and digital learning opportunities no matter where they live in New Zealand.
"Our team is out visiting schools from all corners of the country on a daily basis and we are encouraged and impressed with the strong appetite for digital learning."
Pukekohe Intermediate principal Gary Sweeney said he was looking forward to beginning the year using N4L's Managed Network: "There is no question that our teachers and students will be taking their use of digital tools and programmes to a new level this year – and the quality of internet they'll need to do this will increase as a result.
"I want students to achieve outstanding results with all they do and this year I look forward to online programmes providing more individualised learning and inspiration for their creativity. This is really important in the Intermediate school years, when teachers need to build a classroom culture allowing for more personalised learning to develop as their students become more independent and move closer to their secondary years."
A report released in October 2014 found that more than 75 per cent of schools were noticing an impact on student achievement as a result of using digital technologies in classrooms.

All schools will be able to connect to the Managed Network by the end of 2016.
An interactive map of all participating schools can be viewed at: http://www.n4l.co.nz/managednetwork/rollout/

In addition to building the Managed Network, N4L has developed a digital learning hub called Pond, which 4000-plus teachers from nearly 1200 schools are now using to find learning resources and share classroom practices with their peers. Pond can be accessed by every school staff member with any internet connection, and there will be a number of new programmes introduced this year to help teachers create and share their lesson plans.