News
Harold the Giraffe's mobile classroom gets a refit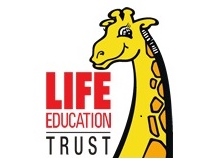 Harold the Giraffe has quite a following in schools all around the country, and now he can educate in the comfort of his newly outfitted mobile classroom.
Life Education Trust, Thames-Coromandel, Hauraki and Waihi amalgamated with Matamata-Piako to refit the classroom to be more in sync with the digital age.
The interactive technology uses microsoft Kinect to allow children to manipulate the images on screen, and fully engage with the learning experience. The upgrade of the 44 mobile classrooms around the country will cost a total of $1.8 million.
Thames-Coromandel's Chief Executive, David Hammond met with the Life Education Trust Chair Keith Trembath and Board Member Bruce Smith on the mobile unit as educator Rachel Johnstone put the new technology through its paces.
"The Life Education Trust is a real community initiative. With support from Council and sponsorship from local businesses they can continue to educate local children on a range of topics related to their health and well-being," says Mr Hammond.
Murphy's Buses are one such example of community sponsorship, having moved the classroom between schools free of charge since the first school visit to Ngatea Primary in February 2000.
The mobile classroom is in the Coromandel until the end of March.