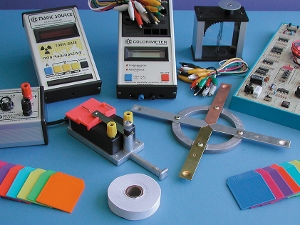 In November 2013, Science and Innovation Minister Steven Joyce and Education Minister Hekia Parata announced $10.5 million in additional funding was to be provided for schools to raise student achievement in maths and science.
As Mr Joyce said when making the announcement:
"Boosting the skills and achievement of our young people in maths and science is essential for their future careers and for New Zealand's economic growth and prosperity."
Part of that process is for schools to fit out their school laboratories with the equipment and materials to enable students to reach their full potential in the field of science, and seeking advice from experts.
Crescendo Enterprises
Crescendo Enterprises Ltd was established in 1964 with the specific aim of supplying educational science equipment and apparatus to schools throughout New Zealand and the Pacific Islands.
"Because we have been supplying equipment to schools for so many years we know what equipment is needed. By holding stock we have been able to ship goods promptly and have built up a good rapport with schools as a result," director David Tunnicliffe says.
"We help schools select the items they require given what they are wanting to do, particularly up to year eight. Secondary schools have a better idea of their requirements.
The range of equipment Crescendo Enterprises Ltd supplies includes magnets, prisms and lenses, magnetic compasses, microscopes, power supplies, batteries, torch bulbs, torch bulb holders, alligator clips & wire, laboratory glassware, electricity kits, switches and electrical connecting wire. The list of chemicals stocked is extensive. These are mainly sold to schools from years nine to thirteen. Copper sulphate is a very popular chemical for crystal growing and is ordered by schools up to year eight.
"In terms of what primary and intermediate schools purchase, a lot depends on the particular interest of teachers," Mr Tunnicliffe says.
"For example, some teachers may have more of a focus on nature and studying plants, so they would want magnifiers, microscopes or charts for students to examine leaves and flowers. Others prefer more laboratory-oriented items such as electrical items, prisms and magnets."
Science teaching and learning has developed into a more hands-on process in recent years," Mr Tunnicliffe says.
"Instead of the teacher standing in front of the class and the students just watching and listening, it has now become much more hands-on for students with simpler equipment being available for them to do the experiments themselves, so they can get greater understanding of the subject. At senior levels (years 11 to 13) there is an increasing use of technology such as data loggers."
For secondary schools, which have a specific science curriculum to follow for both NCEA and Cambridge examinations, Crescendo Enterprises Ltd supplies a full range of more sophisticated equipment to meet all the curriculum requirements. This includes technology-based items, electronics kits etc.
Schools setting up new science laboratories or upgrading existing ones can seek assistance from Crescendo Enterprises Ltd. They recommend what equipment should be purchased having reequipped many laboratories over the years.
"We have a strong focus on safety and can supply laboratory coats, plastic aprons, safety goggles, safety glasses, safety shields and the like. We advise schools how chemicals should be handles and stored. Safety storage cabinets are available too," Mr Tunnicliffe says.
Delta Educational Science
In addition to supplying the day-to-day orders of busy school science departments, the setting up of new science laboratories has been a specialty of the Delta Educational Science team for the last 20 years.
Over that time the company has been setting up laboratories and supplying equipment to schools right across New Zealand.
"We have a complete range of science equipment for schools – that's our core market," business manager of science Derek Weir says. "But whether the need is for science equipment, chemicals or general educational supplies, our goal is to be the one-stop shop for schools. If we don't have it, we will try to find it.
"We cover the areas of biology, chemistry and physics with general labware and consummables, plus we supply general equipment science classes often use, such as AV equipment, lab furniture like stools and other items.
"Basically, we supply everything schools need, from glassware to gyroscopes, magnets to microscopes and everything in between."
Recently the company has begun introducing items to meet the requirements of STEM EDUCATION (the acronym for Science, Technology, Engineering & Mathematics), which are seen as priority areas of education in countries around the world.
"For example, we have a bench-top-size wind turbine that students can build, modify, test and race in an efficiency competition, and a new line of renewable energy science educational products including the unique hydrogen fuel cell products from Horizon Educational," Mr Weir says.
One of the key efficiency requirements for school science laboratories is knowing how to store and where to store their specialised equipment, Mr Weir says. Delta Educational not only provides advice on safe, secure storage, it also supplies storage systems from internationally renowned manufacturer, Gratnells.
"We are the New Zealand agent for Gratnells. Their science & technology storage system is quickly replacing the old tote tray system and most new schools are using it.
"We always receive very positive feedback from schools that have purchased it. For example, the science technician from one school said: 'We were very excited when our new system arrived, and we have not been disappointed with it; the Gratnells system lives up to our expectations and needs. The trays are strong and the runners stable – not like the old and wobbly tote trays that kept falling off the runners'.
"Our key focus," Mr Weir says, "is on customer service, integrity, quality and cost-competitive solutions, which, we believe, is what schools really want."