News
Old to new – an innovative approach to MLE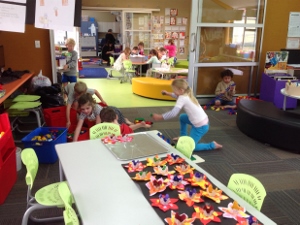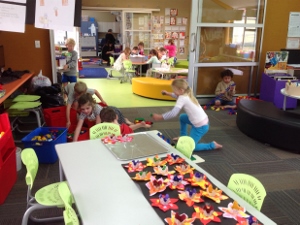 Hautapu School in Cambridge, a full primary school with a current roll of 221 students, has joined the MLE (Modern learning Environment) ranks in a very innovative and cost-effective way.
While there are brand-new schools being built to the MLE model, and other existing schools having new MLE spaces being constructed, Hautapu School has recently completed a project whereby two old classrooms were combined into a MLE with three teaching spaces.
The two classrooms were a relocatable classroom, which had been moved to Hautapu from another school in 1994, and a classroom that had been built on site in 1999.
"The plan was to provide a Modern Learning Environment by joining these classrooms together to create an environment for our New Entrant students where the transition from early childhood to Hautapu would be seamless. There would be three teachers having ownership over all the students," principal Marilynn Jones says.
"Our vision was to join the two classrooms together with a wet area in between so we could use the space as one open space or use three separate areas as a MLE. We met with the project managers, Gislers, and discussed our plans for joining the two classrooms together with a break-out area between."
When the architect's drawings were initially provided to the school, they didn't replicate the school's vision, so they were resubmitted, Ms Jones says.
"Their first drawings which came back to us were just refurbishing two single-cell classrooms, which wasn't what we wanted. Before resubmitting them, we asked our year three and four students what they missed most about the transition to school from pre-school.
"They actually drew plans as well, with open spaces, different activities in each space, having some pets in the space – we have fish, a turtle and a rabbit now – a cooking area, where we now have a stove, more than one teacher and more hands-on activities."
The revised plans were sent to the Ministry of Education for approval and building consent was approved. Funding was provided under the school's 5YA Ministry funding, with the furniture to be provided by Furnware. The new MLE space, known as the Pohutukawa Pod, was officially opened by the Minister of Education, Hekia Parata, on June 5.
"The Minister was impressed with what we have achieved and that a MLE can be created using existing classrooms," Ms Jones says.
"Our Ministry property person was also impressed and has spread the word around.
There has been positive feedback from our teachers, and parents of students, regarding the low student to teacher numbers.
"The movement within the groups is seamless, as it is all under the same roof, and the sharing of resources and teacher practice has been a bonus. There are some issues around noise during formal lessons with literacy and numeracy teaching, but that's overcome by closing the doors when required. The new furniture has allowed constant change, and the setting up of new areas," she says.
"With MLE, teachers have to be able to get along with one another and have a shared teaching philosophy, plus they need to be prepared to have ownership of all the children. Joint planning, shared practice, modelling good practice, a joint approach to solving problems, and trialling other people's ideas are all benefits of MLE. But it may not suit all teachers who prefer having their own class space."
Teachers from several schools have visited Hautapu School to have at look at what they have done, and have gone away with ideas they can incorporate in their schools.
"They have been very impressed with what we have created. The bright colours, open spaces and modern furniture, merged from two older classrooms. It is about having that vision of what you want to achieve and how it will look."
However, other schools have reservations about how existing classrooms can be converted to MLE.
"The MOE trend today is to build new schools around the MLE, shared spaces and multiple teachers. Many schools do have old buildings and would like to have MLE but don't believe it's possible," Ms Jones says.
She suggests they too should visit other MLE schools to see what they have done, but says schools considering changing first need to embrace the concept of MLE.
"Before you convert classrooms, knock down walls etc., there must be a philosophy and a desire to work collaboratively in a MLE. In terms of what it would cost to change rooms, or knock out walls, that would be on a case-by-case scenario. Schools do get property funding from the Ministry. We would all like to have new buildings within our schools, but we can make our learning environments more attractive with forward thinking and planning, and visiting other schools for ideas.
"We would like to change the rest of our school into MLEs, but cost is a factor. In 2016 we are looking at refurbishing our years 6, 7 and 8 classrooms. Fingers crossed that we will have enough money to create a MLE for the senior school. We do have some money left from 5YA so we will look at quotes."
Landscaping and design work is also underway at Hautapu School, with stage one, the front entrance to the school, already completed.
"Our challenge is the closure of roads due to the new expressway and to develop safe parking and pick-up areas for our students," Mrs Jones says.
At the start of term four, Hautapu School updated their SMS by moving to full use of the MUSAC Edge SMS.
"We're entering all our electronic attendance and student assessment data on the new system. We were using the previous MUSAC Classic, but the modernised Edge system is definitely much more user-friendly, and the teachers love it," Mrs Jones says.
"It is also much easier to enter whole school data with National Standards information. Previously, I had to do it manually, but with MUSAC Edge it calculates the school-wide data into year levels, gender, ethnicity and whole school percentages."
Principal at Hautapu for the last six years, and a teacher there for the previous 14 years, Mrs Jones says she is passionate about education and teaching and learning from children.
"Hautapu School is where my heart is. It is a special, safe, caring place for youngsters to enjoy their learning and strive for the best, and the staff and the community make it all the more enjoyable to be here."
She does have concerns about some aspects of the teaching profession, however, and says it is hard for teachers starting out on their career to get a teaching position.
"A solution to this problem would be if the Ministry of Education placed and paid beginning teachers for one year's professional development within a school. This would not come out of a school's staffing entitlement.
"I believe a MLE would be an ideal situation where a beginning teacher could be immersed in an environment where teaching is constantly modelled, ideas shared etc."
She also thinks there is not enough value placed on the teaching profession in New Zealand.
"New Zealand teachers are the best in the world. We need to showcase and celebrate the wonderful teaching and learning that goes on in our schools. I honestly think that a lot of the public are not aware of the long hours and dedication our teachers have to our profession."