News
Children's author to launch new collection of sailing stories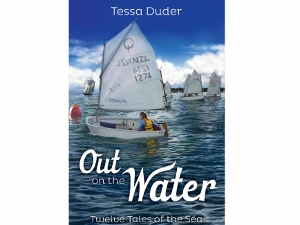 Renowned children's author Tessa Duder and illustrator Bruce Potter have combined to produce a stirring collection of 12 stories about kids out on the water around New Zealand.
The stories in Out on the Water range from a girl's experience of her first Optimist regatta to a boy learning the ropes on a tall ship from Sydney to Auckland in the 1880s.
Each story features a full-page line drawing, and weaves into the text a rich thread of sailing words and knowledge (helped by a glossary of language of the sea).
This is Duder's first fiction for young adults in over 10 years. Her most recent young adult non-fiction is The Story of Sir Peter Blake – and one of the new stories is a fictionalised account of Peter Blake and brother Tony on an after-school sail across Waitemata Harbour.
In the book's introduction, Duder writes how the book answers the request from a grandson for stories about children going sailing.
"So here are 12 stories about young people having a wide range of experiences on the water – inshore as crew or skipper, or as crew on offshore voyages."
Duder, who lives on Auckland's North Shore, is a keen sailor with a long-standing commitment to the sport in New Zealand, from tutoring Optimist sailors to her work for the Spirit of Adventure Trust.
Out on the Water will be launched in Takapuna, Auckland tomorrow, November 6.