News
Young minds shine in global maths competition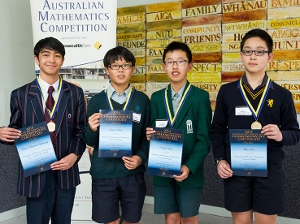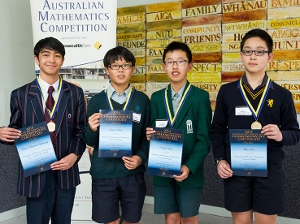 Four New Zealand secondary school students have taken out honours in the annual Australian Mathematics Competition sponsored by the Commonwealth Bank (AMC).
The AMC is one of the world's largest school-based mathematics competitions with more than 14 million entries received since it started in1978. New Zealand has participated since 1979. It is a fun 30-problem competition with many of the problems set in situations that show the relevance of mathematics in students' everyday lives.
Several hundred thousand students of all levels of ability from schools in more than 40 countries entered this year's competition. This included more than 17,000 entries from almost 300 primary and secondary schools in New Zealand.
Each year a number of AMC medals are awarded to secondary level students for outstanding performances, both within their country and overall in the competition.
In 2014, a significant number of students achieved scores worthy of a medal. The list of medallists grew to 77 globally for 2014, four of them from New Zealand. They are: Max Gu, Auckland Grammar School; Robin Wan, Burnside High School, Christchurch; Samuel Chen Pakuranga College, Auckland; Prince Michael Balanay, Botany Downs Secondary College, Auckland.
"In a positive sign, the number of medallists from New Zealand has increased from three in 2013 to four this year, and they are all first-time medallists," adjunct Professor Mike Clapper ,executive director of the not-for-profit Australian Mathematics Trust that runs the AMC, said.
A special medallists' award ceremony was held last Thursday at Linwood College in Christchurch, the first time the ceremony has been held in Christchurch since before the 2011 earthquakes. Dr John Hannah, senior lecturer in Mathematics at Canterbury University presented the medals.