News
Tennis star empowers youth through education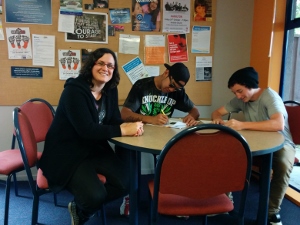 Waikato tennis star empowers youth through education
When Hamilton-based Hannah Fick was just nine years old, she jumped on a plane to New Zealand with her family in a bid to escape unrest in her home country of Namibia.
And having since experienced opportunities in this country that she may never otherwise have had, Hannah has made it her prerogative to empower Waikato youth to make the most of life.
The 25 year-old has been appointed tutor for '#Ultimate', a new TrainMe course designed to give Waikato youth, aged 16-19, a taste of a range of careers.
In taking on this new position at TrainMe's Ruakura Road campus, Hannah has become an instant mother hen to about 34 Waikato youth who were "unsuccessful in a school environment, but want to be successful".
Hannah says she is honoured to take on the challenge. "Moving to New Zealand gave my family and me the opportunity to experience a life full of opportunities.
"I have been so blessed and believe that everybody, no matter their background or perceived ability, should be empowered to succeed, as I have been," she says.
Hannah has represented New Zealand in tennis since she was 11.
"Tennis is something I am passionate about and was encouraged to pursue from a young age. I was honoured to represent the country in the under 12, 14, 16 and 18s, and got to visit Fiji, New Caledonia and Australia."
But, as much as she loves tennis, she says her biggest passion is empowering youth to reach their potential.
"After completing a Bachelor of Science in Psychology: Clinical Research and Counselling, at Liberty University in Virginia, America, I worked for three years with a non-profit organisation called Harvest Outreach as a counsellor for youth aged four to 19.
"That's where I learned the value of getting to know individuals. I have had so many fantastic opportunities to succeed in my life, and I wanted each and every one of them to experience the same," she says.
Hannah says when she returned to New Zealand this year and heard about #Ultimate, she knew it would be the perfect environment to assert her philosophy that 'everyone has potential.'
"These Waikato youth who haven't succeeded well at school need an environment that is simultaneously fun, educational and attention-grabbing. And that's what #Ultimate does.
"I hadn't heard of anything like it before. Each week students take a short course in a different area.
"They explore mechanical engineering, barista training, outdoor education, web development, child-minding- the works. They are even coached through the next level of their driver's licence theory and gain their OSH forklift licence," she says.
Hannah says her background in clinical research and counselling really helps make a difference.
In six months #Ultimate students gain a National Certificate in Employment Skills, which she says helps to transition them into either a higher level qualification in their chosen field or prepare them for full- time employment.
In her experience, lives are already changing. "Some of my students had never earned a credit before. Just a few weeks ago, I had students stay behind after class to earn their first-ever credits. "The moment they achieve, they are ecstatic. And that's what I'm here to do. Help them to joyfully succeed."
#Ultimate began at the end of August 2014. Intake for the next course will be February next year.
Visit http://www.trainme.org.nz/ultimate/ for more information.