News
Students partner with Starship to help patients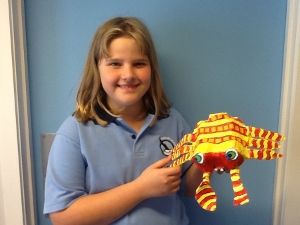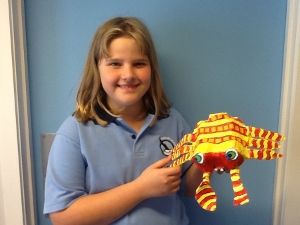 The Year 5 students from Murrays Bay School in Auckland have worked alongside staff at Starship Children's Heart Ward to create three-dimensional sculptures for the hospital's treatment room. The sculptures are aimed at distracting patients when they are having painful procedures performed.
The partnership started in 2010, when students designed and created a mural for the treatment room. In 2014, Starship contacted Murrays Bay School and asked students to create three-dimensional sea creatures that could be hung from the ceiling.
This process was part of Real Learning in the Year 5 team at Murrays Bay School. Real Learning focuses on making learning as real as possible for students and involves students working with the community to meet community needs.
Real Learning at Murrays Bay School is facilitated by Fleur Knight, who works alongside teachers and students to help them meet criteria set by the community.
Creating three-dimensional sea creatures involved integrating the New Zealand Curriculum to include scientific experimentation, and technological planning and brief development to meet specific criteria. Students worked on developing models that met both physical and functional criteria.
To meet costing criteria set by Starship Hospital, the students created the hanging sea creatures from recycled materials. The process involved testing glues, and joining materials to form shapes to create sea creatures that were then covered in papier mache.
The students then sanded and painted their sea creature, adding patterns and tesserae from recycled wallpaper books. All of these techniques were used to make the hanging sea creatures as appealing as possible to patients lying on beds below them.
While constructing and decorating these sea creatures, the students continually tested their sea creature from "a patient's point of view", by hanging the creature above them as they lay on the classroom floor. This enabled the students to focus their design on the "patient's perspective", so they could meet the specific purpose of these sculptures.
Students found this process challenging, but rewarding. Many even named their sea creature and were very proud to see their sculptures in the videos and photos sent from the treatment room at Starship Hospital.
"It is great to see students applying their learning to make a difference to others, especially to the children in the heart ward at Starship Hospital. This is an excellent example of our young people participating and contributing in a positive way to the wider community. Along with the science, technology and art skills this work has also taught the students how to have empathy for others," Ms Knight said.
Murrays Bay School intends to continue to build their relationship with Starship Hospital, by involving their students in meeting needs for the children in their care because, as one patient said, "This is awesome".