News
Mount Albert Grammar scores netball three-peat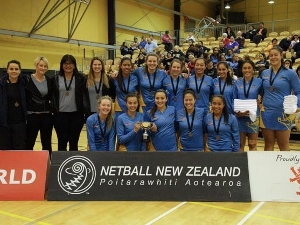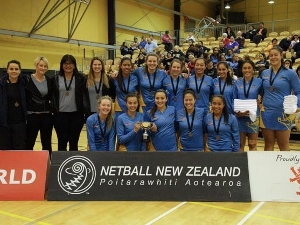 The Mount Albert Grammar School netball team is the New Zealand Secondary School national champion for the third consecutive year, defeating first-time finalist St Margaret's College team 41-26.
The Auckland side tracked through the four-day tournament unbeaten and was odds-on favourite to retain the title with the team featuring a host of New Zealand Secondary School players, including captain Holly Fowler.
St Margaret's College earned their way into the final for the first time in the tournament's history after finishing in 11th place in 2013. Under the watchful eye of coach Helen Bryant, the Christchurch side fought valiantly in the final against the more fancied MAGS side, and didn't go down without giving the match a100 per cent effort.
The pace of the game was dictated by a fit and determined MAGS side, with the mid-court attackers foiling the St Margaret's defence to find their tall targets under the goal.
MAGS goal shoot Maia Wilson finished the match sinking 28 from 30 attempts (93 per cent), with goal attack Chiara Semple finishing with 13 from 17 (76 per cent).
St Margaret's College goal shooter Jessica Prosser was the outstanding shooter of the tournament, with shooting statistics averaging over 90 per cent across the week.
In other results, Auckland Girls' Grammar School (AGGS), eased past Wellington East Girls' College to win the bronze medal 32-27. The Wellington side finished in third place 12 months ago and in 2012 ended the competition in 13th, so they must be congratulated for their consistency.
The third place finish for AGGS was a significant improvement from 2013's seventh spot, with the team notching up some impressive wins over the course of the week.
St Mary's finished their campaign in seventh place, defeating Sacred Heart Girls' College 32-20 and in a closer encounter, local hopes Manukura celebrated a fifth place finish, pipping Saint Kentigern College 35-32.
Two fantastic matches earlier in the day sorted out the final standings of teams placed ninth to 12th. The match between St Andrew's College and Southland Girls' High School was a thriller, only decided seconds before the final whistle as the teams traded goal for goal. Southland Girls' came through victorious 31-30 to take ninth place overall, with St Andrew's 10th.
In the other contest, Westlake Girls' High School edged past Waimea College in their battle for 11th place and it was the dogged Westlake Girls' side that eased ahead as the clock ticked down, winning 32-31.
Local side Palmerston North Girls' High School finished on a high note to beat South Otago in extra-time 47-40 in the 15th/16th play-off and Avondale College were too good for Newlands College to earn their 13th place overall, 45-36.