News
Educational app helps kids get creative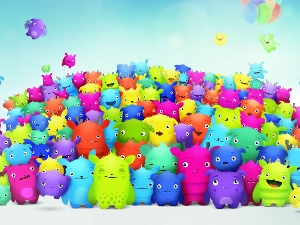 A fun, educational app developed by McDonald's is proving popular with Kiwi kids, with over 17,000 downloads of the app in New Zealand since it launched in April.
'Emlings' is designed for four to eight year-olds to encourage creative play, while also developing children's cognitive skills. Kids find and rescue unique Emlings creatures and teach them to paint, dance, sing and make things out of goo, to help spark their imaginations.
The free app currently sits in the top 10 educational games in New Zealand iTunes App Store.

McDonald's NZ managing director Patrick Wilson says Emlings was designed to provide creative fun while being educational.
"Kids can use Emlings to make digital creations of their own, in a safe and playful environment, and share them with their parents," Mr Wilson says.
"It is also a natural digital extension for New Zealand's most popular family restaurant, to complement the traditional offerings including playlands and Happy Meals."
Emlings is also designed to encourage healthier meal choices, so if you choose the Chicken Snack Wrap, Fruit Bag or CalciYum™ milk with your Happy Meal, you can scan them to find special gifts like masks, hats and slippers that children can add to their Emlings.

 Parents can set a play timer to control how long their child is playing. When the time is up, the Emlings simply fall asleep, keeping parents in control of playtime without any arguments. The app was developed in consultation with parents and Dr Kristy Goodwin, an Honorary Associate of Macquarie University, who specialises in how children learn and develop in a digital world.
"McDonald's takes a responsible approach to the marketing of any types of products or services that involve parents and their children," Mr Wilson says. "Branding within the Emlings app is very limited, and no food or beverages are present. The app provides parents with an option they know will ensure a safe digital environment for their child."
McDonald's is a global signatory to the International Food and Beverage association's commitments on marketing and communicating with children. A recent update to these commitments extends them into the digital space.