News
Clever device helps students master the clarinet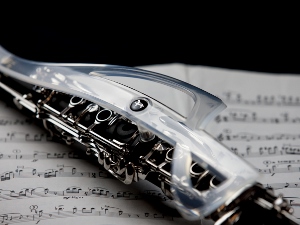 Former Christchurch music teacher Phil Lambert has invented a simple device, which is set to revolutionise the teaching and learning of clarinet. Engineered to target the player's fluency and muscle memory, the award-winning Classical Fingers ensures the learner's fingers do not lift too high from the surface of the clarinet, allowing for a more accurate and smoother performance.
"The concept of Classical Fingers came to me after years of teaching and noticing that most students who struggled when playing the clarinet lifted their fingers too high from the keys and they would often miss keys, play unevenly and not play as quickly as they potentially could," Mr Lambert, who is now based in Melbourne, says.
"I experimented with my theory by hovering a pencil over my students' fingers to prevent them from lifting too high and I was amazed at how quickly it improved their accuracy and smoothness. I found that their fingers would often just stay in the correct position without touching the pencil, as having something above them worked as a deterrent.
"From this simple teaching technique I began working on the idea of developing a learning apparatus that would help my students achieve this on a more regular basis away from their lesson, and hence Classical Fingers."
Classical Fingers is a specifically engineered transparent guard that covers all of the essential keys of the clarinet at an optimum height for the fingers to travel. The fingers then sit more comfortably above the keys and have a similar distance to travel and, in return, this helps develop the correct muscle memory essential for playing the clarinet.
"I believe my device is an essential part of learning the clarinet, just like having the correct books, reeds, music stand and a good teacher as it reinforces the correct technique a student learns in their lesson so that every time they practise they are correctly building on these foundations," Mr Lambert says.
With an innovative 'clip & play' design, students simply clip the guard on to two specifically designed magnetic bands positioned on the clarinet and begin playing. The fingers will immediately sense there is something above them and will automatically stay lower.
When a student has finished using Classical Fingers they can conveniently attach the guard to their music stand and keep the magnetic bands on their clarinet for next time.
"As a teacher and performer I am passionate about sharing my knowledge and helping others to enjoy playing well. It always disappoints me to see a student give up because they think it is too hard when it is usually a simple finger placement issue. The clip and play design allows ease of use and helps create the optimal finger position essential for all levels of players.
"The clarinet is a beautiful instrument so careful consideration has been taken in the design of Classical Fingers to show off a sleek and elegant design whilst complementing the aesthetic, quality and structure of the clarinet.
"When I started learning the clarinet I loved how it looked and loved putting it together so I wanted students to have the same sense of excitement with Classical Fingers."
Classical Fingers is manufactured in Australia and is sold for $95.
It is being exhibited at the Sydney Powerhouse Museum throughout 2014 and 2015 and Design Korea 2014 in November.
A list of stockists, including KBB Music (N.Z) is available at www.classicalfingers.com