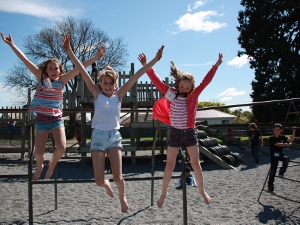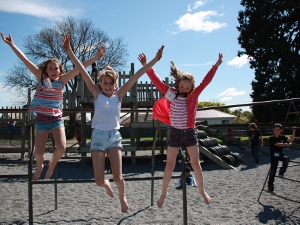 Reliable and safe out-of-school and holiday care has become increasingly important for today's busy families. Parents who need to have their children taken care of while they are at work want to have confidence in the professionalism of the providers, and also look for programmes that stimulate, encourage and entertain their children.
Bizzy Bodz
Bizzy Bodz Ltd prides itself on offering quality before and after-school care and holiday programmes in a fun, safe, caring and organised environment in several schools in the greater Auckland area. Bizzy Bodz is not a franchise but is proudly run by Jo Adamson and what she calls her "lovely team".
"We run all the programmes ourselves and have a real hands-on, day-to-day involvement with the business."
All staff members are carefully selected, are police checked and hold a current First Aid certificate.
"We're approved by Child, Youth and Family, which means we must operate to pretty strict standards. This also gives parents the opportunity to access the WINZ OSCAR subsidy should they require it."
While Bizzy Bodz is based in Auckland, Mrs Adamson is actively looking to provide programmes in other areas as well.
"We're experienced, we're flexible, and we are keen to look at new opportunities in other centres. We have really good office operation and electronic systems, so it's definitely achievable."
Bizzy Bodz currently runs eight after-school care programmes and seven holiday programmes.
"Most of our venues operate both before and after-school care and holiday programmes," Mrs Adamson says.
"We have a couple of stand- alone holiday programmes. And likewise in the after-care, we have a couple of programmes where we don't run holiday programmes during the break. We are looking to expand the business and take on more programmes – either before and after care only, holiday programmes only or both together – we are keen to look at all scenarios.
"There might be schools out there that either don't have a provider at present and are looking to start something, or are looking to change their provider. I'm happy to answer any of their questions and put a proposal to them.
"All of our programmes can be tailored to each school, so the principals might like to be involved or not want to be involved at all. We're pretty flexible in that regard and are really happy to work with each school. We have been operating for nine years and have a wide range of experience in many different types of schools.
"The programmes are an important part of the school community, particularly for working families, and we value the subtle but important role the programmes play in the lives of the children in our care. "Communication with families, via parents and feedback from the children, is vital in ensuring the quality of all programmes remains high."
She says after-school care is structured, with children being provided a nutritious afternoon tea, free time, supervised homework time and access to quality, organised activities such as art and craft, games, baking and sports.
Holiday programmes include outings twice a week from each venue to places such as the movies, swimming, ice- skating, roller-skating, beaches, as well as specialist entertainment venues such as Rainbows End.
Schools interested in finding out more can contact Jo Adamson, phone (09) 277 7704, email [email protected] .
4FUN
West Auckland's 4FUN provides before and after school and holiday programmes for between 150 and 220 children a day, servicing the area from Taupaki to Glen Eden, across to the Te Atatu Peninsula and all schools in between.
After conducting extensive research, director Tasha Jeffries opened 4FUN at the Trusts Stadium in Waitakere in August 2009, with the aim of providing what she believed the community wanted.
"We are open from 6.45am to 6.15pm and we offer pick-up and drop-off services in our own vans to cater for busy families. It gives parents the benefits of flexibility," Ms Jeffries says.
"What the market research told us was that providers rarely –if ever – actually meet the community's needs – hence our later hours, the pick-up and drop-off service and our flexibility."
The pick-up and drop-off service means children that normally may not be able to, can get to their after-school activities, which enables families to increase family participation, Ms Jeffries says.
Sick children are no problem for 4FUN staff, either.
"We understand the realities of daily life for parents, whether it be studying or working, so from one phone call we can collect sick children from school, take them to the doctor, collect the script and have them tucked up in our sick bay for parents to retrieve when they are ready to take them home."
After outgrowing their space at the Trusts Stadium within the first 12 months, 4FUN relocated to premises next door to Te Pai Park in Lincoln Road, Henderson, from where they have safe access to the park, playground, netball courts and the skatepark.
4FUN's school holiday programmes include off-site trips almost every day. These can be to a local park or playground, further afield to places like Rainbow's End, or to take in jet-boating, roller skating or ice skating activities.
"Ours are definitely not your everyday holiday programmes," Ms Jeffries says.
"During the school holidays families don't need to pay for before and after-school care. They can just enrol their children on an hourly rate at times that suit them, whether this is just a two-hour break from being at home with their parents, or for those that start early and finish early.
"A lot of families enrol their relatives with us on a regular basis during the holidays. These people come from outside West Auckland and we are frequently asked if we have branches outside of West Auckland."
To keep the families in touch with what's happening at 4FUN and in the local community, regular newsletters are sent out, while the Facebook page enables families to see what their children have been up to during their time at 4FUN.
"It's our way of having an 'open door' policy for families who are not able to come in and see what's going on."
Ms Jeffries says 4FUN has agreements in place with several local schools stating they will only actively promote 4FUN, which indicates the valuable reputation the provider has within the local community.
4FUN is a CYF approved OSCAR provider and OSCAR subsidies are available from WINZ.
MASH
The Christchurch-based My After School Headquarters, known as MASH, was set up by former school teacher Craig Fortune and his wife Nicole in January 2012 when they couldn't find a suitable after-school programme for their own children.
"We wanted at least some structure in an after-school programme and because we couldn't find that we started our own programme in the Elmwood-Merivale Bowling Club premises.
"We started with four or five children. At the time I was still teaching and I juggled running the programme with my commitments at school. By the end of the year we had 30 kids a day aged five to 13 and up to 50 a day in the school holidays."
The majority of the children attending the programme are from Elmwood Primary School and Heaton Intermediate but there is also a shuttle bus provided to collect children from surrounding schools.
Since that first programme, MASH has grown and there are now seven programmes being run across the city. In addition to Elmwood-Merivale (two programmes), they operate at Pegasus Bay School, Burnside Primary, Bromley School, Heathcote Valley School and Bamford School.
The children have a semi-structured week at MASH, Mr Fortune says, and on any given day they start with afternoon tea and then do their homework with staff members sitting alongside them.
At about 4pm Monday to Thursday they have 'gathering' and discuss the planned activity for the day. Activities range from baking, which is very popular, art and craft, science experiments to fun physical activity which promotes their philosophy of healthy living.
They also encourage external community groups to come and present to the children. Organisations such as the Fire Department, the Deaf Association, Kapa Haka groups and self defence organisations have visited the various programmes. Friday is Chillax Day, acknowledging that by the end of the week the children are all tired and the programme is more relaxed leading into the weekend.
"In essence we did a lot of research about what we would offer, and we pride ourselves on the semi-structured aspect of our programmes," Mr Fortune says.
"Nicole and I have four children and all the decisions we make about MASH are made as parents. We have a young, vibrant team of staff who go through a lengthy recruitment process which includes police checks. They must have good social skills and they are expected to respect our brand and our philosophy and to be actively involved with the children.
"The big difference with MASH is the one-on-one with the children's homework and also the structure, which the parents love.
"The kids have access to the weekly plan so they know what to expect and they respond well to this. Chaos can occur if there's no structure or routine for children, so we provide an environment that combines structure, routine and supervised free play to reduce this".
MASH also runs seven holiday programmes for five to 13-year-olds, with a variety of sessions available to suit the community's needs. The children are taken on outings, such as to the movies, the swimming pool, and Orana Park.
"In the last holidays we ran a MASH Kitchen Rules competition where the children had to cook a recipe from the ingredients provided. It was a real hit".
Mr Fortune is looking to take the MASH brand into other communities and welcomes enquiries from any schools interested in finding out more.