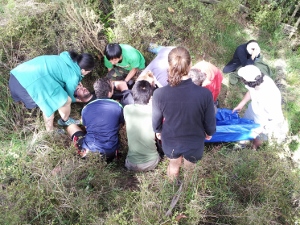 First aid training in schools is provided for two key reasons – firstly, to train teachers so the school meets the Ministry of Business, Innovation & Employment's Health & Safety guidelines; secondly, to give students important life skills to take with them when they leave school and put into practice should a situation arise where someone needs first aid.
As well, their first aid certification can be taken into the workplace or tertiary study, where first aid training is sometimes required.
NZQA has set down minimum requirements for reporting First Aid credits. These are that providers must be NZQA registered and accredited and that the course meets the minimum training hours. As well, the course teachers and assessors must be trained in standards-based assessment.
There are a number of first aid course providers around the country, so schools are able to easily access first aid training and refresher courses when they need to.
Timaru-based Pro+Med (NZ) Ltd has been delivering first aid into schools for students, teachers and support staff since 1995 and is accredited by NZQA to assess against unit standards.
Pro+Med's quality manager Jocelyn Gutsell says the company's first aid training courses provided for teachers means schools can meet the Ministry requirement that there must be a trained first-aider on site during school hours. Teachers or parents supervising groups of students on school camps must also include one or more people trained in first aid, who can provide appropriate assistance in the event of an accident or medical incident, Ms Gutsell says.
The company also delivers Gateway programmes to more than 200 schools around New Zealand. These include a range of courses designed to provide skills and training for students before they enter the workforce. While these courses provide valuable skills and knowledge, they are also designed for the enjoyment of the students.
As Pro+Med Gateway instructor Mark Taylor says, "Fun is the best way to learn, so all our courses are centred around the students having fun, while at the same time being challenged to solve problems as a group, and to justify their answers using the incremental knowledge gained throughout the day."
Mr Taylor is currently conducting a rap competition for Pro+Med's Gateway students, with the winners to be announced at the CATE conference being held in Tauranga in November.
First-Training, which has its head office in Auckland, was established in 1997, and has been operated by managing director Johanna Verheijen for 14 years. The company's trainers are NZQA accredited and the company is a category one Private Training Establishment.
The first aid courses for teachers are specifically designed for the school environment, with the trainers aiming to make them "fun and interactive" Ms Verheijen says.
The School First Aid Course covers a range of areas including CPR, accident management, use of a defibrillator, fractures, major bleeding, shock and others. Participants are given hands-on training and get to practise their skills using scenarios in the school setting. The course can be modified to suit specific staff needs.
The company's First Aid for the School Environment (FASE) course trains teachers to deal with medical emergencies or accidents at school, and more particularly in EOTC situations.
"Learning outdoor first aid skills is important for teachers that take students on school camps, especially in relatively remote areas," Ms Verheijen says.
For year 12 and 13 students planning to join the workforce, First-Training offers workplace first aid courses through the Gateway programme.
"That prepares them before they go into that environment – a lot of places require employees to have first aid training," she says.
First-Training's teacher and student first aid courses are available throughout the country.
Based in Tauranga and offering services throughout the country, the Pacific Islands as well as Asia and the Middle East for the UN, Pacific Medicare is NZQA accredited for unit standard assessment. Founding director Dennis Mundy has had extensive experience in the emergency care field and over 15 years as a secondary school teacher. All Pacific Medicare trainers have an educational focus versus instructional delivery and are industry qualified with practical experience in many emergency care areas.
"As with any service delivery in our field, it has to come down to quality," Mr Mundy says. "We are very client-focused. We have many long-standing clients, including schools, and we find that the relationship often carries over when teachers move to a different school.
"Courses need to be relevant, practical and fun," he adds.
Pacific Medicare offers two first aid courses for students – basic first aid, and workplace first aid, which not only prepares them for employment where first aid certification is required, but can also be the first step on a career path within the first aid and emergency care industry, Mr Mundy says.
First aid and refresher courses for teachers are also provided, with a strong emphasis on training for EOTC and other outdoor activities, including sport. However, Mr Mundy believes it would be worthwhile for schools to take a strategic approach to selecting staff to be trained in first aid.
"First aid and health and safety are often only thought about after an accident happens, resulting in negative connotations around it. If the first aid issue was addressed beforehand, there would be a more strategic focus, and the school could match relevant staff for different roles both inside and outside the classroom."
Triple One Care, which provides a nationwide service, has an extensive history of first aid certification and revalidation in schools, director Andre Slierendrecht says.
"We also provide training in outdoor first aid for teachers that take students on trips. We offer the Outdoor Management Unit Standard, which is very appealing to teachers, especially if they have been faced with an accident in a distant place where there is no communication.
"In the training they go through scenarios in prolonged patient care, as well as managing the group."
The company has also had a "very good response" to its TOOL course, Mr Slierendrecht says.
"That stands for Triple One On Line. It reduces the contact time to three and a half to four hours for the practical component, which is done at school after hours, and they do the theory component online in their own time.
"All teachers are computer literate and have previous first aid training, that's why it works so well."
Triple One Care offers unit standard based first aid training for year 12 and 13 students through the school curriculum and Gateway.
"Schools can also book students into a public first aid course in the school holidays, for which they get a discounted rate."
The company has a government syndicated procurement contract that can be utilised by schools.
"This gives schools the facility to use the contract and receive excellent rates for the courses. It also provides quality aspects and a monitoring process to ensure quality assurance," Mr Slierendrecht says.