News
Four schools in line for 'Treemendous' makeover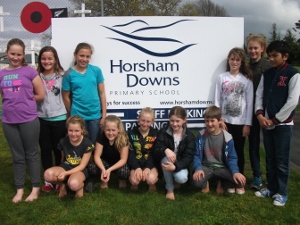 Four schools have been selected to receive a $10,000 Treemendous School Makeover in 2015 – Waikouaiti School (Otago), Renwick School (Marlborough), Horsham Downs Primary (Hamilton), and Havelock North Intermediate (Hawke's Bay).
Treemendous School Makeover is a joint initiative between the Mazda Foundation and Project Crimson Trust.
The winning schools will be visited next year by the Treemendous team for a native tree planting working bee. The schools' outdoor areas will be transformed into a space for students to learn and explore.
"The standard of entries for the Treemendous School Makeovers were incredibly high this year, making it exceptionally difficult to choose the four winners," Mazda Foundation chairman Andrew Clearwater said.
"It was clear that a lot of thought and planning from both the staff and students went into the applications, resulting in a huge variety of creative and original ideas."
Waikouaiti School will transform its current outdoor area with native trees, garden beds and a small orchard. There are many native birds in the area so the school will build bird feeders, as well as bug hotels to encourage insects and lizards to the garden. The school will also create a tree climbing confidence course to encourage co-ordination and strength.
"We are delighted that we have been selected for a Treemendous School Makeover," Waikouaiti School principal Trudy Pankhurst said.
"This is an amazing opportunity to provide an area in which our students can immerse themselves in many aspects of nature, in both teaching and playtime sessions."
Renwick School will restore part of the neglected Renwick Community Creek that runs through the school to an attractive and healthy state. Pathways and viewing platforms will run alongside the creek, surrounded by native trees and plants. Carved poupou will line the creek and an amphitheatre will be constructed to be used as an outdoor classroom and community space.
"We encourage environmental sustainability as part of everything we do at the school," Renwick School principal Simon Heath said.
"We're excited to transform our outdoor area and develop the Renwick Community Creek enabling us to continue connecting our students with their environment and school whanau."
Horsham Downs School will add to its existing native bush area to create an ecosystem with its own micro-climate. The small forest area will attract native birds such as tui and kereru. Educational signage will label all native trees and plants so students will be able to learn about lifestyles, habitats, and ecosystems in the outdoor classroom.
Havelock North Intermediate will celebrate its 40th birthday along with a Treemendous School Makeover next year. A large, disused area of the school grounds will be transformed into a place where children can learn about native flora and fauna. A new path will create a link between three local schools, allowing children to socialise with pupils from other schools in a shared community area.
A waharoa (gateway), bird houses and feeders, beehives, and a substantial number of natives will also be included in the transformation.
The Treemendous team will carry out these makeovers in 2015 together with help from the local school communities, parents and students, and the local Mazda dealerships.
These four winning schools take the total number of schools awarded Treemendous School Makeovers to 31.
Devon McLean, Project Crimson Trust Chairman, said it was wonderful to see so many schools passionate about the environment and eager to create their own educational outdoor area.
"Since the programme's inception in 2008, 27 schools have benefited from an outdoor transformation and we are looking forward to seeing even more creative environmental initiatives from around the country, when entries open in 2015."
All primary and intermediate Schools can apply for a Treemendous School Makeover. Finalists will receive $500 for their school and the winning four schools will receive a $10,000 school makeover. Entries will open again in the first term of 2015.