News
Shared goal supports secure future for youth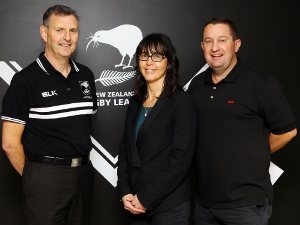 Providing youngsters with a secure future is a goal that New Zealand Rugby League, The Skills Organisation and Competenz all share, and they have joined forces to deliver that message.
The two industry training organisations have signed on as official sponsors of the NZRL Youth Elite development programme until the end of 2015 and are also naming-rights partners of the NZRL National Youth Tournament, now powered by Got a Trade? Got it Made!.
"More and more, we're focusing on our young players' future beyond the game of rugby league," NZRL chief executive Phil Holden says.
"While a long and successful professional and international career is every player's dream, the reality is that they can't afford to rely on football for their future.
"We recognise they need to make alternative plans, and The Skills Organisation and Competenz are ideal partners to help us drive this message.
"It's exciting to have these leading industry training organisations on board, as we begin to gather a strong group of partners around our NZRL Youth Elite programme."
The Skills Organisation has already begun that relationship with a workshop at the recent NZRL National Performance Camp in Rotorua, showcasing apprentice opportunities in 21 different industries across New Zealand.
Trades skills really are for life," Skills specialist trades and business general manager Lance Riesterer says. "We're thrilled to be working with NZRL and these talented young people to build for a secure future."
The Skills Organisation and Competenz are two of the industry training organisations behind the Got a Trade? Got it Made! campaign, which encourages active and practical young people to choose trade careers.
"Playing rugby league means being skilled and competitive on the field, while getting a trade makes you skilled and competitive in the workplace," Competenz trades general manager Fiona Kingsford says.
The formalisation of this bond will see The Skills Organisation, Competenz and Got a Trade? Got it Made! feature prominently as part of the youth expo running alongside the NZRL National Secondary Schools Tournament being held from September 1-5 at Papakura.