News
Vege garden boosts learning opportunities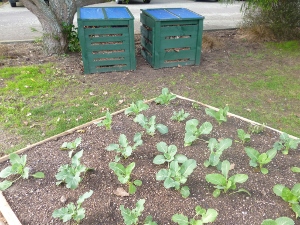 Students at Monrad Intermediate School in Palmerston North have four new vegetable garden plots and two new compost bins thanks to a community grant from Horizons Regional Council.
Monrad's food tech teacher Hilary Marshall said the idea of creating a vegetable garden came about last year when she realised how much waste the school kitchen was producing.
"We started by getting a recycling bin for the kitchen, which made a big difference, but we had nowhere to put our food scraps. This soon led to the idea of having a compost bin and vegetable garden to spread it on," she said.
With no budget to spend on this goal Ms Marshall was encouraged by an ex-teacher to find out about Horizons community grants.
"The $400 we received from Horizons built four vegetable plots, two compost bins and paid for the plot filling. We're so thankful for this funding as we've been able to reduce costs and waste, create our own fertiliser with the compost and supplement brought produce we use in class," Ms Marshall said.
"It's fantastic that we have this resource available for students to learn from. They provide the opportunity for cooking students to pick fresh vegetables, learn how to wash and de-root them, and try vegetables they haven't before."
As the vegetables aren't ready to be eaten yet, in the meantime the plots are enabling two Year 7 students to complete a fertiliser-focused science project.
"James Woodcock and Walter Johnson are looking at how different types of fertiliser impact the growth of vegetables and will use this information to complete their science project next term," Ms Marshall said.
Horizons environmental educator Helen Thomas said it was "fantastic" the vegetable garden plots and compost bins were being used for both sustainable and educational purposes.
"It is great to see Monrad School taking the initiative and exploring an aspect of reducing waste and encouraging green fingers," Mrs Thomas said.
"The fact that they are able to tie in multiple focus areas, like a science project, really lends credit to this being a sustainable and educational venture that will have a big impact."
Ms Marshall said she was currently maintaining the plots but hoped to establish a core group of keen gardeners to take over as the area develops.